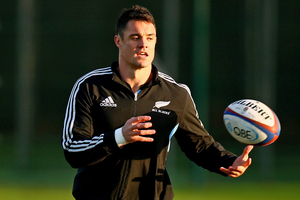 We should salute the influence and achievements of All Blacks first-five as he prepares to face England at Twickenham in his 100th test

The trouble with displays of absolute excellence is that they set an impossible benchmark. Displays as sublime as that of Dan Carter against the British and Irish Lions at Wellington in 2005 are impossible to replicate week in, week out. It can only be a measure of how much All Black supporters have been spoilt by the great first five-eighth that some voice disappointment when he does not quite scale those heights. This is nonsensical. Those who have taken to sniping at Carter should reflect on his ongoing brilliance as he takes the field at Twickenham this weekend to become the fifth All Black to play 100 tests.
Those critics point to several supposed shortcomings. At 31 he is said to have lost some of his sharpness and to have become injury-prone. He is also deemed to be no longer irreplaceable because of the presence of several younger and highly promising first five-eighths.
There may be an inkling of truth in some of this. But ask the vast majority of All Black supporters who they prefer playing in that position and there remainsonly one answer.
Carter continues to bring qualities to the rugby field that none of those nipping at his heels can match and, quite probably, no other first five-eighth has ever emulated. The accuracy of his goal-kicking sets him apart, as does his kicking in general play. So, too, does his ability to breach the opposition line through strength, even from a standing start, or deceptive running. His vision, ability to read the game, and passing skills also remain unimpaired.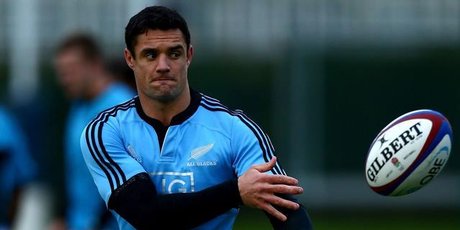 A further measure of Carter's influence during his 11-year international career is that we are now apt to forget that New Zealand has had long periods without particularly good first five-eighths. For every player possessing real gifts, there have been many who were steady but average by international standards.
It is surely no coincidence that we now have several in that position, including Aaron Cruden, Beauden Barrett and Tom Taylor, who would be automatic selections for any other country. Watching Carter as they started their careers has surely led them, and others to come, to strive for his stellar standards.
Most fundamentally, that ability is evidenced in bare statistics. He has scored 1435 points, a world record, 255 conversions, a world record, 254 penalties, and recorded 29 tries. But among his qualities is also an unassuming nature and preference to talk of the team, rather than personal triumph. If this can sometimes sound cliched, few players with his longevity in the game will, for example, have played for just one Super franchise.
An upbringing in Southbridge may not have prepared him for what was to come off the field, either. But a celebrity marriage, a stint as a male model and corporate commitments seem not to have knocked him off his stride. If the concept of a role model can be overstated, Carter, nonetheless, fits the bill.
There is one gap in his record. Two of his tilts at the World Cup ended in disappointment for the All Blacks; the most recent was defeated by injury. It is to New Zealand's enormous benefit that he seems determined to remedy that shortcoming. The All Blacks' prospects of back-to-back triumphs will mount with every cap that he adds to his magnificent first 100.