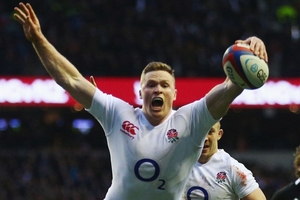 Last year's loss was actually a triumph for the All Blacks' game

It must amuse the All Blacks that we who write about them constantly contrive a mundane challenge for them. We need it, they don't. They are taking their game to a higher peak.
No sooner had they completed a clean sweep of the Rugby Championship this season and started to pack for their northern tour, than we decided England was their feared test.
England beat them this time last year. Hence you have been reading that they are "desperate to avenge their only defeat in 32 matches", that they were "beaten and carved up by a team that read their every play" on "that painful day".
The All Blacks haven't been speaking to this script. Asked about England at the outset of the tour, coach Steve Hansen said: "We've got to play Japan and then we've got to play France, and they are not a bad side are they? England are not even on my mind at the moment.
I get a bit frustrated hearing about England. We'll [talk] about them in England week."
In London this week, he agreed the defeat had "hurt", because that is what he is supposed to say. He still sounded frustrated by the question.
What he and his leading players would like to say, I suspect - but cannot because fans would misunderstand them - is that last year's defeat at Twickenham did not hurt much at all, that in fact it was a glorious day for their game.
England surprised everyone, especially themselves, by playing an All Black game. They were quick to breakdowns, passed at pace and found openings out wide. With a Polynesian import, Manu Tuilagi, at centre, England ripped the defence apart several times and scored some scintillating tries.
Twickenham's loyal and long suffering crowd appeared to be in rapt disbelief. English rugby supporters turn up year after year to watch their lumbering white team try to beat Southern Hemisphere sides with scrum bulk, kicks for territory, penalties, defensive fouls and the niggly, jersey-pulling tactics of the truly second-rate.
Generations of English rugby followers have grown up thinking this is the best their boys can do. English newspapers employ rugby writers who regard the "scrummage" as the apogee of its arts.
Some of them deeply disapprove of adventurous open play and prefer referees to put the rules ahead of a spectacle.
For a long time now, the All Blacks have been playing not just to win test matches but to win a battle for rugby's soul. It is a battle they have won before but only to stumble in a single match at the World Cup that unfortunately defines rugby these days.
It was important for New Zealand that they win the Webb Ellis trophy two years ago but it was important for everyone who cares for the game that they win it in style. Their semifinal against Australia was a brilliant display of the way they want to play the game. The final against France was a different story, a northern game. The immense relief and euphoria of that final whistle left no room for regret that the greater contest had not been won. The battle for the soul was still in the balance.
Since then something remarkable has happened. The All Blacks are the first "champions" in a long while to live up to the title. They are not only still winning in the style of Sir Graham Henry's team, under Hansen they are looking even better.
The players he introduced last year, especially halfback Aaron Smith, gave the team a higher gear.
There was absolutely no shame in losing that end-of-season game. The team had won everything that mattered. That day they inspired England to play the same way, at least momentarily.
I don't know whether England hit such heights again in the last Five Nations Championship. Reportedly not. But at least they know what they have to do to have a chance against the All Blacks tomorrow.
South Africa came to a similar realisation this season. They brought their usual game to Eden Park for the first match with New Zealand, setting out to upset the All Black's rhythm with high kicks and hard charges. They took out Dan Carter but not the game.
For the return match at Ellis Park, the Springboks adopted the All Blacks' game, and like England, they played it well. They nearly won.
I don't think rugby has ever been better than it is today. That is the All Blacks' achievement. They have no scores to settle, no need of contrived challenges.
Like leaders in every field they are striving always to get even better, and they will.