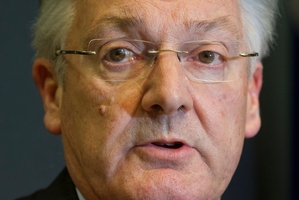 Heard the one about the media outnumbering the delegates at a party conference? It was not quite the case, but United Future president Robin Gunston made light of the small turnout at his party's annual gathering on Saturday by saying the fact the media had rolled up in number showed just how important United Future was.
The joke fell flat. It cut too close to the bone.
The "conference" amounted to barely 30 party members and supporters squeezed into an upstairs room in a community centre in Peter Dunne's Ohariu electorate.
Dunne is the Great Survivor. But even his heart must sink as the venues get smaller year by year. Not that he showed it. A professional to the core, he addressed his troops with the gusto and verve of someone with an audience of 3000, not 30.
His speech was noteworthy for lashing out at an old target - the Greens - but with a fresh motive.
Dunne's likening of some of that party's MPs to Afghanistan's Taleban was lapped up by his listeners, with him further arguing that ordinary folk were being shut out of debates on environmental matters by "single-issue zealots".
Suddenly, the Great Survivor had become the Great Environmentalist, peppering his speech with the 's' word - sustainability.
Purple being United Future's colour, he suggested it was time to set up the "Purple Greens" as a fresh voice for people who did not want a bar of all the "social baggage" that came with the Greens.
He was not joking. As the leader of the party that lays claim to represent the hunting, shooting and fishing lobby, Dunne appeared to be making a major positioning statement to find something to make his party relevant to voters' lives.
The party's current relevance rests solely on Dunne holding his seat to give National one more vote in Parliament on top of its entitlement.
Even before this year's triple-whammy, which saw Dunne lose his ministerial post, endure humiliation over his email traffic with a journalist, and then find his party had been deregistered, United Future was struggling to rate even in single figures in the polls.
Dunne's constant refrain is that United Future has always been a stable partner in numerous governing arrangements, while imposing some curbs on the power of the major governing party.
If United Future was still a true centre party, then in 2011 Labour supporters - knowing their party was doomed to defeat - should have been voting tactically for Dunne's party to act as a brake on a re-elected National Government.
They voted instead for NZ First because Dunne had become too much part of the National Government's furniture.
Now Dunne is saying it is most unlikely his party could do a deal with Labour after next year's election - effectively telling National voters there is no point looking to him to act as a restraint on a Labour-led Government.
The problem is that Dunne, though not a clone of National, has morphed into something close to it. Voters can no longer spot the difference.
'Disempowerment' blamed for low voting in council polls
United Future leader Peter Dunne is blaming a growing sense of "disempowerment" felt by voters for the low turnout in last month's local body elections.
Speaking at his party's conference on Saturday, he said there needed to be a new relationship between central and local government that was a more equal partnership and one which recognised the differences between the regions.
"We have just been through the local body elections - and everyone is lamenting the poor voter turnout.
"There are a couple of obvious reasons - a growing sense of disempowerment, that local government is toothless, because Wellington really makes all the decisions that count, and that local democracy is, therefore, actually a bit meaningless."
A government could also step in and replace an elected council with commissioners as it saw fit, and postpone scheduled elections.
Mr Dunne noted that in Hawkes Bay, a group involving local government had been keen to promote the region as being GE-free for the next 10 year as means of selling into international markets.
However, central Government had intervened because the group's move would cut across the 100% Pure New Zealand strategy.
"I say that how Hawkes Bay presents itself to international markets should be primarily a matter for Hawkes Bay interests to resolve, and that if people do not like the actions they take, then they can vote out the local politicians responsible at the next election."