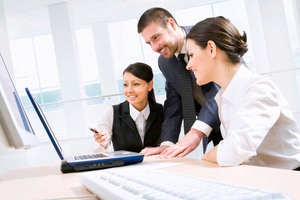 Around 1pm on Thursday, shares in Xero hit $41 on the NZX, valuing the accounting software firm at $5.3 billion. This pushed it above Auckland Airport and Telecom to make it New Zealand's second most valuable listed company behind Fletcher Building. This is astonishing. Fletcher Building, which is worth around $6.5 billion, has 18,830 workers, annual revenue of around $8.5 billion and is on track to produce earnings before interest and tax this financial year of up to $650 million.
Meanwhile, Xero had revenues of just $28.7 million in the six months to September 30, albeit they almost doubled in the past year. Xero had just 507 staff at August 1. It has never made a profit.
How can a company with so little track record be worth so much?
The answer is all about Xero's potential. International investment bank Credit Suisse this week called Xero the "Apple of Accounting".
These are extraordinary aspirations, but Xero has a good shot at it. Xero really took off after it raised US$150 million in October from Paypal co-founder Peter Thiel and other US and local investors.
The capital raising announcement set out their ambition - to take on and beat US giant Intuit in the contest for 29 million customers. No New Zealand company has had a real shot at dominating a part of a global market before. Xero's "ecosystem" of add-on services is the key and it has the potential to create a flowering of many, many cloud computing companies in New Zealand.
Investors are quickly realising Xero could become the centre of everything which business does online and in the cloud, from payrolls to invoicing and payments.
These are rocket ship rides for investors and a huge boost for our stock market. It's also much more encouraging than the last time New Zealand's stock market was generating this sort of excitement.
The likes of Xero and point-of-sale cloud software firm GeoOp make real services that are being sold directly in huge global markets. It will be a roller-coaster ride, but it's one New Zealand investors need to see up close and personal.