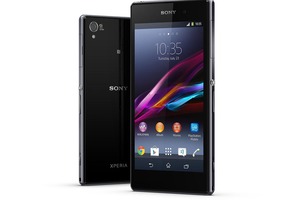 It's a tough job launching a smartphone. Intense competition means you've really got to get it right if you're to have any hope of making it. Sony's Xperia Z epitomised this, creating a stir when it launched. Now Sony are going one better with its successor, the Xperia Z1.
Sony seems to have really hit their stride in the smartphone space. Not only do their handsets sport the sort of design smarts we'd expect from Sony, but they're also put some serious effort into its specs too.
Look & Feel
The Z1 has a very similar look and feel to the original Xperia Z's black slab design. The most obvious difference between the Z and the Z1 are the rounded alloy edges of the Z1 which make it easier and more comfy to hold. Like the original, the Z1 has scratch and shatter resistant Gorilla Glass 3 on its front and rear. The upshot of this is that the Z1 feels like solid phone with minimal Tupperware, giving it a distinctly premium finish.
Like the Z, the Z1 is also waterproof and dust-resistant. This mightn't seem like a terribly big deal given there's already plenty of smartphones similarly element proofed, but where most tend to look like bloated plastic bricks, Sony have managed the near impossible feat of keeping the Z1 slim while making it tough enough to handle the odd swim.
Even though it has an exposed 3.5mm headphone socket, it still managed to take an impromptu dunkings with aplomb, happily powering up and doing smartphone stuff, even while underwater.
While the Z1 is marginally thicker at 8.5mm than the Z, it's still some way from developing a middle aged spread. There are however upsides to its chunkier waist - for a start the Z1 has an incredible camera and a bigger 3,000 mAh battery. This was also done with quite a bit of thought as the Z1 feels as finely balanced in the hand as a high-end chef's knife. It might not seem like a big thing, but it makes a huge difference as you're less likely to drop it when pulling it out of a purse or a pocket. Sony call this Omnibalance - here's hoping it makes its way into more Xperia hardware, it's a great feature I didn't even know I needed til I experienced it first-hand (bad pun).
While the Z1's rectangular black finish might make it the sort of phone Darth Vader would keep on his utility belt next to his light sabre, it's simple finish highlights its gorgeous 5" 1080p 441ppi LCD display.
Sony have applied their years of experience in the display technology by including what they've branded a Triluminos panel that produces a much wider colour gamut. The net result is that the Z1's display offers a significant improvement over the already great display in the Z. Colours looked surprisingly natural, rather than being either washed out or completely blown out and oversaturated.
Triluminos isn't the only display tech baked into the Z1 - it also sports Sony's proprietary X-Reality engine that processes and cleans up images they fed onto the Z1's screen. In use it helped to dramatically improved lo-fi images (such as compressed website logos and badly taken photos), adding to the high end feel of the Z1.
Speaking of photos, the standout feature of the Z1 has to be its camera. Thanks to the efforts of players such as Sony and Nokia, smartphones are finally challenging point and shoot cameras. This was definitely borne out with the Z1. In use its camera managed to pull a heap of detail out of scenes that'd otherwise just be a bunch of blurred pixels on most other smartphones.
This was largely due to its 20.7-megapixel Exmor RS sensor (with 6400 ISO sensitivity and a 27mm sapphire Sony G-Lens and F2.0 aperture). Sony paired this with a Sony BIONZ mobile image processing engine. This meant that the Z1 could shoot HDR photos and video, plus it also has a burst mode capable of 61 frames in 2 seconds.
There's also a dedicated camera shutter button which handily meant that the Z1 could be used underwater. Hardware aside, Sony have also added a lot of the software smarts we've come to expect from their camera range. This includes a smart auto setting that'll automatically pick the right mode for best shot. My favourite however was the augmented reality mode which places dinosaurs into your photos. If you're bit of a shutterbug, chances are pretty good that you'll be impressed with the Z1's camera.
In Use
The Z1 ran buttery smooth with everything I threw at it, apps ranging from basic web/social networking, email and SMS through to full on 3D gaming didn't miss a beat. This was largely due to the Qualcomm 2.26GHz Snapdragon 800 quad-core CPU & chipset under its hood. Sony also chose to keep extraneous Android customisations to a minimum which also helped ensure that things remained stutter free.
On the connectivity front, about the only thing missing is a kitchen sink. The Z1 is not only 4G friendly, but also supports 802.11ac in addition to 802.11a/b/g/n. There's also support for Bluetooth 4.0 and NFC - If you're the lucky owner of a newish Sony smart TV or Sony Bluetooth headphones, chances are that they'll seamlessly pair with the Z1 just by being tapped against it.
Keeping Android customisations to a minimum also confers Sony with the advantage of being able to theoretically offer faster Android firmware upgrades compared to other manufacturers who've caked their handsets in customised code.
Sony have taken the smarter route of doing most customisation via apps which can be uninstalled and updated on an on-going basis to boost functionality so users are not left waiting forever for system updates. These include Movie, Album and Walkman apps plus Sony Select, a Sony app store.
Battery life was also solid. With typical use (such as email, texting, gaming plus the odd phone call/photo), the Z1 lasted an entire day and right through the night before demanding some quality charger time. This was largely due to a combination of a bigger battery, more energy efficient silicon and energy saving tweaks such as a stamina mode.
Verdict
The Z1 ticks a lot of boxes. Not only does it pack more processing grunt than a bacon factory, but it is as you'd expect from a Sony product, exceptionally well built and has a distinctly premium feel about it.
Being able to use its camera underwater is also verily cool indeed and its camera has to be one of the best I've seen in a smartphone (with the exception of Nokia's 1020). If you're an Android fan and want a high-end phone, the Z1 may be just what the doctor ordered thanks to an excellent balance of design, performance, usability and specs.
Tech Specs
RRP$ (will vary depending on telco and plan) $399 upfront on Telecom Ultra Mobile (24 month term), $0 on Vodafone Red (24 month term)
Connectivity: (2G) GSM 850/900/1800/1900 (3G HSDPA) 850/900/1700/1900/2100 (4G LTE) 800/850/900/1700/1800/1900/2100/2600
WLAN: 802.11 a/b/g/n/ac, Wi-Fi Direct, DLNA, Wi-Fi hotspot
Bluetooth: Yes, v4.0 with A2DP
NFC: Yes
GPS: A-GPS/GLONASS
Dimensions: 144 x 74 x 8.5 mm, 170 g
Durability: IP58 certified (dust proof and water resistant 1 meter & 30 minutes)
Display: 5" capacitive touchscreen, 1080 x 1920 pixels, (441 ppi), Triluminos display with - X-Reality Engine
Memory: 16 GB, 2 GB RAM
USB: micro USB2.0
Camera: (Rear) 20.7 MP, Video 1080p@30fps, video stabilization, HDR
Front: 2 MP, 1080p@30fps
OS: Android OS, v4.2 (Jelly Bean)
Chipset/CPU: Qualcomm MSM8974 Snapdragon 800, Quad-core 2.2 GHz Krait 400, Adreno 330 GPU
Battery: Non-removable Li-Ion 3000 mAh battery