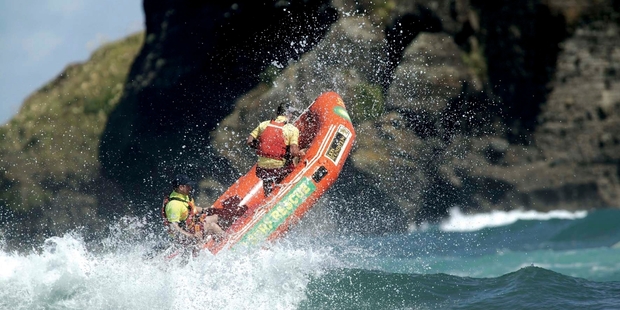 Never swim in natural bodies of water. Ever.
That is my motto. I'll admit it may seem a trifle over the top. It may seem ever so slightly un-New Zealand. It may also seem insane. But this particular rule (Dixon Rule #34) has served me well over the years. I have not, well not since 1999, gone into a pond, a lake, a river or the sea - and I will not do so under any foreseeable circumstances in the future.
You can think what you like about that. But this is why the chances of my appearing in the long-running local television series Piha Rescue (7.30pm, Mondays, TV One) are absolutely nil. Better safe than being seen on TV coughing up seawater, I say.
This of course is my point. As this show has reminded us for a decade now, nothing good ever comes of going into, or near, a natural body of water. Sure on a hot day it always seems a good idea, as the sun plays on the breakers of a perfect crescent bay. But then you get stung by a bluebottle, eaten by a shark or (more commonly) sand in your crack.
Or you nearly drown, like some fellow from Vancouver nearly did in the first episode of Piha Rescue's new season.
His name was Anthony (or Antony, I never quite worked it out). And he did the remarkably stupid thing of going for a swim in a rip at a West Coast beach (Raglan as it turned out) after the lifeguards had pulled out their flags and gone back to the surf club for a barbecue, a beer and whatever else it is that they do of an evening (I've heard a few stories).
The show certainly laid on the drama with Anthony's rescue (though after the earlier story of some poor old dear breaking an ankle in the woods, it was rather in desperate need of a genuine emergency). Rescuing Anthony involved a highly trained and expert combination of swearing, yelling into walky-talkies, running about, rushing rubber boats to the water and more swearing before the poor fellow was spotted, dragged out of the surf then subjected to medical treatment and filming for television.
From the comfort of the couch, the guards did seemed a bit panicked for a highly trained crew of swearers, yellers and swimmers. But then no one wants to lose someone on their watch. Or in front of the cameras.
As a non-swimmer in natural bodies of water, I did rather think that Anthony got what he deserved (a belly-full of water and a trip to the hospital), but I have to say that as a television viewer I got what I didn't deserve: Piha Rescue's incredibly bad scripting.
There was the banal, cliche-ridden and clunky: "a serene Piha lies peacefully this morning, still frozen before the local patrol is set up".
There was what seemed to be badly-translated English: "Further south at Raglan the piercing sun promised another beautiful summer's day. Lifeguards prepare for the perpetual onslaught of holidaymakers the weather draws to the beach".
And then there was the illiteracy. The subtitles kept using "aye" (as in "he's f***ing going under, aye") when it should have said "eh" ("he's f***ing going under, eh").
I can't imagine that sloppy writing and cliches matter much to the audience who have stuck with Piha Rescue for a decade. But then they're probably people who swim in natural bodies of water.
Follow @nzherald_ent on Twitter for all the latest entertainment news.
- TimeOut