Despite track record, potential to kick-start rugby in region huge.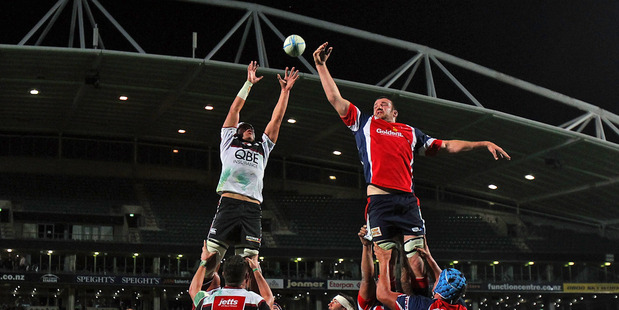 Another day, another rugby scheme. The ironically named Super rugby competition is due for another little overhaul and this time North Harbour is likely to come out the winner, we are told.
The Super competition gets more facelifts than Zsa Zsa Gabor and, just like the Hungarian nip and tuck champion, the Super whatever number still totters along, living on past glories.
As comical as it seems, North Harbour is indeed the logical choice for the new franchise, as reported in the Herald on Sunday. The area has commercial and supporter potential way beyond other candidates such as Taranaki and Hawkes Bay. Taranaki are hooking up with the Chiefs, anyway. If the NZRU is to continue treating the Pacific Islands like a fox hunt at a vegan festival, then North Harbour is the place for a franchise to inspire a new, vibrant rugby era in greater Auckland.
Doorstep competition and cross-town rivalry isn't a nice option anymore, it's a downright necessity to get rugby moving in Auckland again.
The people who run the game must be forced into innovative and clever administration, instead of plodding along like they're recreating an old Soviet advertising agency.
North Harbour's woeful history doesn't matter a jot - what counts will be the quality of those who drive, run, coach and play in and for the new mob. As the Crusaders have shown, the players can come from everywhere, preferably little one-shop towns in the middle of nowhere which seem to breed people with the right stuff. We can only hope the Harbour franchise pioneers start with more imagination than the Blues in the naming department. The North Harbour Maroon 'n' Blacks would be a shocker, but you couldn't rule it out.
There is potential for a big silver lining in the concept - the chance to revive the stadium concept for downtown Auckland. Don't laugh again; why not use the new team to regenerate the idea of building a brilliant stadium a la Suncorp in Brisbane, and have both the Blues and the Maroon 'n' Blacks play there? It would also become the home of the Warriors, who will almost certainly die as a genuine Auckland NRL team if forced to play at Eden Park. It could also host NPC games, Kiwis' tests and of course bid for All Whites' World Cup qualifiers and friendlies, plus a few A league Phoenix matches.
Yes, I know, downtown Auckland isn't in North Harbour. But it's very close, and closer than Albany for many supporters. At the moment, the Harbour idea apparently involves tarting up North Harbour Stadium. We need another half-baked, patched up, outdated, poorly sited stadium like the Blues need Ma'a Nonu back. Maybe the new mayor, who is the old mayor, could get on the case properly this time. He won't of course.
SBW jerking rugby's chain
Oh dear. Sonny Bill Williams jerked the New Zealand Rugby Union and Chiefs around as well. They've been Tohu Harrised, well and truly. They're putting a brave face on it, the rugby mob, promising Lord Muck himself will turn up in 2015. The fact is, the rugby leakers and tweeters told us in no uncertain terms the Offload Express would be turning his perfectly shaped back on daggy rugby league for the bright lights of glorious rugby union in 2014. That proved, once and for all, union was a wonderful international sport of infinite superiority over stupid, backyard, Phil Gould Ball.
His Royal Highness, we were told, way preferred hanging around at second five-eighths waiting for the scrums not to collapse than smashing the ball up for the Roosters, talking to members of the Johns family afterwards and being figuratively cast in bronze every week by Ray Warren's easily stretched vocal cords.
Well, ha ha ha. All it took was a couple of hugs from the bros and hey presto, bye bye Lineout Land. Or maybe Nisbo's relative commentary nonchalance, his inability to match the gushing over Sonny in every set of six, needed more punishing. But can we now report that Five Tackle Kick is indeed a superior game to Scrum Collapse? HRH is even giving up Whacking Fat Old Men With Gloves to play Phil Gould Ball again.
He's coming in 2015. Yes he is. He's promised. His handshake is as good as a signature. Yes it is.
Will right reason please stand up?
Here's another SBW U-turn, or shall we call it instant history rewriting. When he initially stuffed the Kiwis, supporters and Tohu Harris around, he claimed his body was battered and bruised and he'd jumped too soon at the chance of a break after the NRL grand final. Over the weekend, SBW claimed he had informed (to use the word very loosely) the Kiwis he wasn't available for the World Cup because it wouldn't be right to attend the league tournament if he was returning to union. As to the logic of this, ummmmm. Then again, he always goes the extra mile to do the right thing.