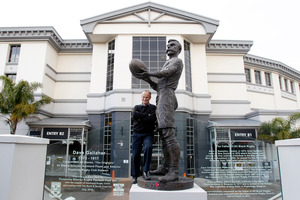 From the beginning there was Tom Ellison and there was a silver fern on a black jersey, back before the NZRFU made him captain and adopted his colours and embarked on 120 years of rugby domination.
Tom Ellison, the man who literally wrote the book. His book, The Art of Rugby Football, remains a classic today, even though you may have to prise a copy from the dying hands of the world's foremost rugby tragics.
Tom Ellison, who with the New Zealand Native team of 1888 - a team that pre-dated the NZRFU's first official selection by five years - played on a 13-month tour of Australia, Britain and New Zealand, a tour that included 107 games.
The team was treated less as a side than as a side show according to rugby historian Paul Neazor, who in trying to explain how this earliest of New Zealand rugby tours has received nowhere near the amount of recognition it is due, offers this rationale: "It was, sadly, seen as something of an exhibition jaunt around Britain, rather as the Aboriginal cricket team of 1868 or the popular Wild West shows of the day were, and the serious nature of their football was overlooked.
Then you could add the fact it was a mainly Maori team."
It was. Though based on some silly but unsurprising Victorian sensibility, five non-Maori players were added to the tour to afford the appropriate legitimacy. Not that they were needed in terms of talent.
Ellison was recognised as one of the finest players of his era, and that 1888 team laid a platform for what would become the New Zealand style. Unfortunately, for Ellison at least, it was a style picked up by another fine Maori player, Billy Stead, who collaborated with Dave Gallaher on the other recognised New Zealand classic rugby manual, The Complete Rugby Footballer.
Gallaher would lead the 1905 All Blacks, a team dubbed "The Originals" even though Ellison led a New Zealand team 12 years earlier. One can only surmise that this team was given all the kudos because it was the first to tour Britain under the NZRFU banner.
Gallaher's name remains, writ large on Auckland's premier club trophy and the cup commissioned for play between the All Blacks and France. Even the title of Gallaher's biography, The Original All Black Captain, is a semantic trick which (although doubtlessly unintentional) further diminishes Ellison's role in laying the foundations for New Zealand rugby's greatness - and make no mistake, the All Blacks and greatness deserve to be classed as synonyms. No team has a record to match them. And that record can be traced back to the 1888 New Zealand Natives.
Consider this: of the 107 games on that arduous tour, beset as it was by injury and exhaustion (the physical and financial kind), the Natives produced a record of 74 wins and 5 draws, If this was the beginning, it was certainly a standard-setting one.
Aside from records, though, Ellison and the men he played with gave the New Zealand game so much more; they gave it its style, its imagination, its innovation and its invention.
Ellison would put to paper only what had already been put into practice. The Originals, the Invincibles, the Incomparables and every other All Black-able in between and since owes its fire and its fortitude to those intrepid men.
For more than 120 years, since Ellison led that first "official" New Zealand side, All Blacks teams have toured and by and large conquered the rugby world, embodying a natural affinity for rugby that few nations will ever understand - hell, they may not even want to.
Quite aside from an almost genetic flair for the game, though, the All Blacks, perhaps more than any other team - with the exception, perhaps, of South Africa - understand that there is an expectation of greatness upon them. That's a heavy burden.
No wonder it requires a 3.5kg book, Men in Black, to record its history.
Yet it is what it is. All Blacks are expected not just to fill the jersey, but to do a better job in it than the last bloke. That's not always possible, and that's why the greats of the game remain the greats. They are too numerous to list here, and each of us could argue the validity of each case for inclusion.
But for me, there remains Tom Ellison, the man who really startedit all.
Dave Gallaher led a great New Zealand side and fought for his country. He is a recognised hero and deservedly so.
Tom Ellison led a great New Zealand side and fought for his rights as a New Zealander.
The story of his heroics could always do with more telling.
Thanks Rene
Everything you need to know about Rene Ranger was on show on Wednesday night as the Taniwha hosted Otago at Toll Stadium - he was for much of the game the most damaging back on show, making a menace of himself around the edges, beating defenders, offloading at will - even taking a quick tap (subsequently knocked on) five metres out from his goal line with the game still there for the taking. Who decides to run from 95m out? Rene Ranger does. Say what you will about Rene, but he is a joy to watch. So, thanks for the memories, Rene, and bon voyage.
School's Out
How about Josh Renton? Just one year out of school and the kid is having a run-on debut for Otago and bossing scrum time on Wednesday night. Renton's performance for Otago against Northland belied his tender years and his ability to operate in unhurried fashion must have pleased Tony Brown. School age players are nothing new - think Doug Howlett, Jonah Lomu and Lolagi Visinia - but their participation in provincial rugby is set to bloom. Next year Waikato will have the services of Christchurch school leaver Damian McKenzie and Hamilton Boys' star Bryn "son of Warren" Gatland. The future, as they say, is now.
Golden Whistle
We're always hearing about "golden boot" awards for most points but may we suggest the "golden whistle" for most penalties conceded in a season? Five men stand at the front of the queue: Ma'ama Vaipulu, Paea Fa'anunu, Bronson Murray, Ropate Rinakama and John Hardie all have 13 personal penalties, but with Murray and Rinakama out of the finals, they may be left behind. Keep some money on Joe Wheeler with 12, and Tim Perry and Sean Polwart with 11 apiece. It may not be the most sought-after prize, but we'll dish it out after the finals anyway.