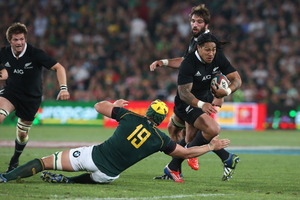 As former teammates Ma'a Nonu and Sonny Bill Williams strode into footy finals yesterday, the All Black made an emphatic statement about his future.
Nonu was at his powerful best, taking the onslaught to the Springboks with damaging runs which reduced their resilience and blunted their midfield counters.
He was still attacking in the final minutes as the All Blacks churned to an outstanding victory in a rare visit to South Africa's rugby citadel.
Nonu is not wanted by any Super 15 franchise in New Zealand but he was like the Cullinan diamond on the high veld yesterday.
His message was just as bright and brilliant as he demanded conflict and confusion in equal doses.
He is a muscular and skilful terror with his ability to offload, ride tackles or dip into his subtle kit as he did last week with his pop pass for Ben Smith.
Nonu was more snorting beast in a fierce contest yesterday and only a remarkable tackle from substitute looseforward Siya Kolisi prevented him scoring in his 84th test.
The splendour of the Nonu-Conrad Smith axis was on show and necessary against the rival heat from Jean de Villiers and JJ Engelbrecht.
The All Black duo were playing their record 50th test together and showed why their machete and rapier routine is so feared by the rest of the rugby world. They have very different rugby styles but a great sense for each other's nuances and that is what makes them such a dangerous combination.
Nonu could hit the hay knowing if SBW was about to re-enter rugby, he had plenty to do to if he wanted to nudge Nonu aside. The second five-eighths is so tough to pull down near the line that his first-half surge opened up a channel for Liam Messam to exploit on the fringe of the ruck.
He plays on the edge and can lose his perspective when his temperature soars but he can also take the heat and release the pressure on men either side.
Nonu should have a new centre partner in Dunedin in a fortnight and the All Black selectors are looking at Ben Smith and Charles Piutau as replacements. They could plump for Francis Saili as well and push Nonu out to centre because the choices have shrunk with Richard Kahui, Rene Ranger and Tamati Ellison taking overseas contracts.
Nonu last played centre for the All Blacks against the Wallabies last season with SBW in the No12 jersey. It was not a smooth partnership and Nonu suits the All Black style much more when he is closer to the action.