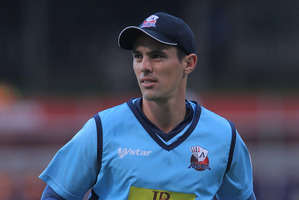 It took place well below the radar. There were a couple of layers of activity which left it submerged in the overall New Zealand sporting picture.
For starters there were the America's Cup which captivated the nation, and the All Blacks. Even in cricket, Otago's bold march to the point of making the semifinals of the Champions League took pride of place.
However, New Zealand Cricket will be hoping for a decent dividend out of their A team tour of the sub-continent, which finished in Sri Lanka yesterday.
The results don't make for impressive reading. Over the course of 10 first-class and 50-over games against their Indian and Sri Lankan counterparts, New Zealand managed a solitary limited-overs win, in Sri Lanka this week.
There were five 50-over losses, one heavy four-day defeat to the Sri Lankans while the other three were drawn, rain and good batting pitches proving beyond the respective bowling attacks.
The idea of the tour, which is intended to be more than a one-off, is to provide a stable bridge between domestic and international cricket.
It has been helped by an International Cricket Council financial package of $700,000 for this and each of a further two years, matched by a mix of NZC and High Performance Sport New Zealand funding.
There are plans to have New Zealand in Dubai early next year as NZC, with an eye on the Future Tours Programme, endeavours to get more players up to speed with the specific demands of playing cricket on the sub-continent.
So who prospered?
The most consistent batsmen were wicketkeeper-batsman Luke Ronchi, Carl Cachopa and Anton Devcich - although Auckland's Anaru Kitchen, who joined up for the 50-over leg in Sri Lanka, was an eye-catching, and rapid contributor at the top.
The first-class bowling was a worry. Doug Bracewell topped the list with 10 at 43 apiece, but promising legspinner Ish Sodhi was given serious stick, seven wickets at 73 each. The other player who will have heartened the selectors was Central Districts' quick Adam Milne. His 14 wickets at 18 runs each in the 50-over programme was easily the best of the New Zealand bowlers.
Eighteen players were used in the one-dayers, 17 in the first-class. The conditions were a new experience for several players and some didn't grab their chance.
But rediscovering nuggets such as Milne, along with confirmation of who comprise the next rank of players outside the national team, are what these tours are all about.