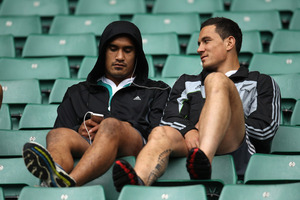 It's usual, midway through a World Cup cycle, for the rest of the world to convince themselves that the All Blacks have peaked.
Just wait for it - someone, somewhere will find reason in the next few weeks to declare the All Blacks a busted flush: too old, too predictable, a team with every trick revealed and no more to give.
They couldn't be more wrong.
This All Blacks side is continually evolving and for those who want to doubt it, there are two reasons alone to believe it: Jerome Kaino and Sonny Bill Williams.
The former is expected to confirm this week that he is returning to the Blues, while the latter will wait until his commitments with the Roosters come to an end before declaring his intentions for 2014, which will almost certainly be a return to the Chiefs.
It is likely Williams will sign a two-year deal - the New Zealand Rugby Union wanted to lock him in for three - that will bring him back to rugby and keep him in New Zealand until the next World Cup.
The arrival of those two alone will change plenty. Williams comes with hype, not so much because his management team like it that way, but because he's a player who can't help getting noticed.
The key thing Williams does is create options; subtle differences in how the All Blacks can play.
His offloading was a weapon no international side worked out how to defend in his first rugby stint.
Combined with that, the All Blacks were only themselves getting to grips with the range of moves they could work off such a stable force in the midfield.
There's a bit more to Williams than just his incredible passing out of contact, though. He brings an element of intimidation. His sheer size and ability to win collisions is impressive - as good as Ma'a Nonu's at least, if not better.
As for Nonu, he could be rejuvenated by the arrival of Williams. Most will fancy that it will be a straight shootout between the two for the No 12 jersey. Maybe not, though. Nonu may be used more at centre and there may be games where it suits to try to use the tandem power of Williams and Nonu.
As for Kaino, he'll be a source of intrigue as everyone waits to see if he can recapture the form that brought him an IRB Player of the Year nomination in 2011. His new contract has heavily incentivised him to quickly assimilate, with the bulk of his salary dependent on being recalled to the All Blacks.
Again, the best thing he brings is a hard edge. With Owen Franks, Brodie Retallick, Sam Whitelock, Kieran Read, Richie McCaw and Kaino on the field, there will be an element of wariness and trepidation from opposition packs.
So any talk of the All Blacks being at a peak is rendered nonsense by the imminent arrival of those two explosive, game-changing athletes alone. But there are plenty of other areas with the potential for growth.
The lineout is only scratching the surface in terms of its ability to target and steal opposition ball.
Scrummaging under the new laws has a long way to go before the All Blacks are going to be, at a minimum, satisfied. And the attacking game is good but in each test, they have added a little more without quite putting it all together.
Whatever happens over the next two weeks, the All Blacks can't be accused of hitting the wall.