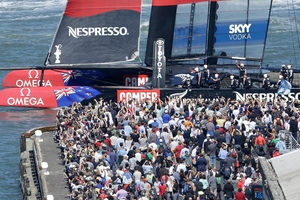 There isn't a lot of love for the America's Cup in San Francisco.
There are diehard yachting fans that have been following all the action and a few sceptics that have been converted, but by and large the locals seem ambivalent.
For the people of San Francisco, the Cup has been a pain in the "tuchus" as they like to say around here. Quite aside from the jury protests, boycotts, one-boat races and cheating scandal that has marred the event, local taxpayers are unhappy they've had to foot some of the bill for Larry Ellison's yacht race.
The city shelled out US$13.4 million ($16.4 million) on the regatta (you wonder what they'd think of the New Zealand government investing $36 million in Team New Zealand's campaign), and so far have managed to recoup only US$8.4 million from private fundraisers.
Despite a billionaire backer, seemingly endless resources and having the ability to set the rules and terms of engagement for the regatta, things aren't going all that smoothly for Oracle Team USA.
In the eyes of the locals things are going so badly in fact, that a group planning theatrical protests over the America's Cup and Larry Ellison, who seems to be painted as a Bond villain in San Francisco, have called off the show out of pity for the billionaire.
That's right. The San Francisco Institute of Possibility, which had planned a series of stunts to mock the America's Cup, announced on Monday they weren't going to bother. A board member for the group, Joshua Marker, said that while the race initially provided ample opportunity for satire, it eventually began satirising itself.
"There are so many levels of comedy and pathos here. So many bad decisions, on top of bad decisions - we just couldn't keep up," said Marker. "I said 'How do you parody that?' at our last meeting, and everybody just shrugged. So we're done."
Among the hijinks the group said they had been planning were:
Dressing as 19th-century commodores and shouting fake nautical commentary to one another during races.
Posting a large electronic sign at each race to count the amount of money the city was losing per second.
Installing a kissing booth that would be hosted by a man dressed as Ellison and patronised by a line of people dressed as the city's mayor, Ed Lee.
Having Ellison look-a-likes walk through the crowd at races asking spectators for spare change and public development rights.
All of which would have made a fine production, but given that Kiwi fans seem to outnumber the locals 3-1 at the America's Cup village, a lot of the gags may have been lost on the visitors.
Besides, the only show they want to see is Dean Barker lifting the Auld Mug.