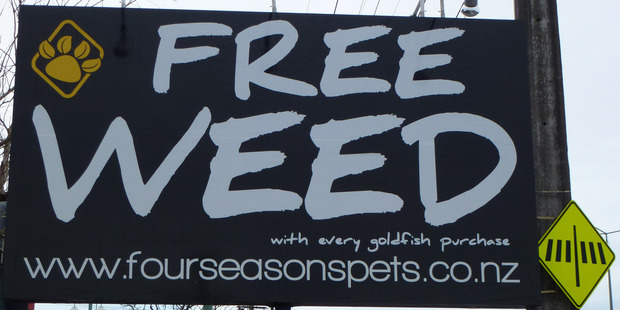 Emma spotted this sign on Barrys Point Rd, in Takapuna. "It certainly made me stop and get some impulse goldfish," she says.
Bit of a camouflage blue
An expat Kiwi writes: "At the start of the semester new Chinese university students are required to do military training. This year I was surprised to see that the camouflage is mottled light blue. The explanation one student gave is that we are a seaside city, and blue is associated with the sea and the navy. The blue camouflage would provide good cover if you are floating in the sea, I expect, but not useful if you are hoping to get rescued."
Perils of a house hunter
An Auckland reader reckons some real estate agents need to be more upfront about expected price ranges. "I fell in love with a house that had a CV of $450k, and was told [by the agent] that late $600k to early $700k would be the price [the vendors] hoped to achieve. So I went along to the auction (after spending over $1200 on a builder's report, the full council report on the property and a house valuation which was required for the bank to approve the loan) and the first bid was $700k.
It sold for $860k. And it hadn't even reached reserve."
Getting the latest model house
A home ownership boom in China has led to heavily attended housing fairs. According to China Daily, one eager developer dresses female models in bare-backed evening wear, with sample floor plans and other housing information painted on to their skin, and sends them wandering through the crowds. (Source: News of the Weird)
T ... H ... R ... O ...W ... spells ouch
Cheerleading causes two-thirds of very serious sports injuries suffered by girls in the United States, a study has found. Visits to casualty resulting from high school and college cheerleading injuries rose from 4954 in 1980 to 26,786 in 2007, researchers said. The sport accounted for about 66 per cent of "catastrophic" injuries - those resulting in permanent disability or medical conditions - to girls, research published in the Journal of Pediatrics said. Most injuries were caused not to cheerleaders being thrown in the air but to those catching them.
Signage: Yesterday there was this and now this "What is it with Aucklanders and eggplants," say Dave. "Perhaps aubergine is too tricky to spell?" (Hat tip Funkypankcake.com)
Everyday sexism: The Saudi Arabia Olympics Team has more women in it than Tony Abbott's cabinet. Here is some more things...

News-ish: Blob fish wins ugly contest, but get this, the kakapo comes second!
Picture this #1: Hercules, the world's largest cat, is a liger - produced by breeding a male lion and a female tiger and are only bred in captivity.
Picture this #2: Car family decal subverted in Massey...
Got a Sideswipe? Send your pictures, links and anecdotes to Ana at ana.samways@nzherald.co.nz