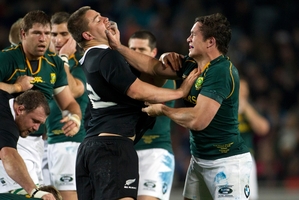 In recent seasons, the All Blacks have been beaten up far more than they have been beaten - rugby's chasing pack convinced that if they are liberal with the fists, high elbows and head-butts, they will miraculously win.
It's time for everyone hoping to knock the All Blacks off their perch to try something else. Since 2010, the All Blacks have lost only four of 47 tests, yet in that same period there have been three red cards to their opponents and, really, there should have been at least five more.
Bakkies Botha and Scott Higginbotham were retrospectively punished for nine weeks and two weeks respectively for head butts, Dean Greyling was lucky to escape with just a yellow and a one-week suspension last year, Dylan Hartley somehow avoided sanction for a disgraceful challenge in 2010 and Aurelien Rougerie can be thankful the IRB didn't have any appetite to investigate his eye-gouging in the World Cup final.
Saturday night was yet another example of a side, or one man at least, going too far in the hope it would scare the All Blacks into submission.
The Boks fancy they are moving into hallowed territory of being space creators as well as space exploiters.
There was no sign of it at Eden Park. All they offered was more of the same, just in greater volumes and with relentless intensity. They are frighteningly large, bruising and tough, which meant they had moments of superiority in the 29-15 defeat: periods where they were damaging.
But they didn't look a great footballing side and probably wouldn't have got much closer even had they had 15 men. All this was rendered moot by the fact Bismarck du Plessis wanted to deepen the mix with his own package of intimidation.
He and the rest of South Africa can cry a river about the injustice of it all but the second incident alone was a red card - nasty, dangerous and deliberate: an act of revenge or a reminder to Liam Messam to watch himself. It hardly matters - the forearm was up, leading and used with intent.
"He's disappointed," said captain Jean de Villiers. "Bismarck is a very good player. He is a very good tackler and I think he executes his tackles very well. He was disappointed that he only played 30 minutes of this game. We are disappointed with the result and that hurts.
"The All Blacks are a tough team to play when you have 15 players on the field ... when you have 14 players it's not going to happen."
Cards, citings, non-citings and cheap shots that escaped attention have too often been the dominant post-match theme in tests featuring the All Blacks.
Opponents keep swinging and lunging and the All Blacks keep winning. That is not best explained by poor refereeing. Instead it has everything to do with poor judgment and an inability to cope with the pressure the All Blacks induce.