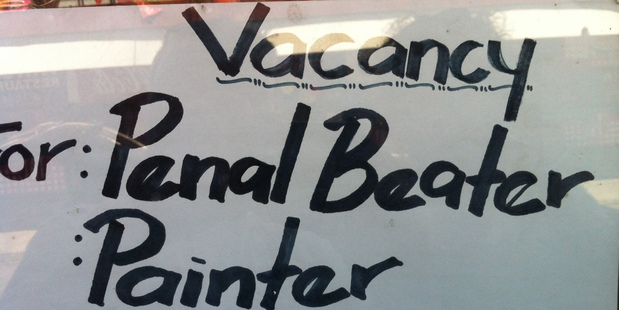 Sounds painful: Spotted by Simon in a Nadi, Fiji, hardware shop window last week.
Transgender bender
A transgender man has given birth to his first child in Germany and wants to be registered as the baby's father. The unidentified man had insisted on a home birth to avoid being listed as the mother on hospital documents - a German legal requirement. Although the father has been taking hormone replacement therapies for years, he elected to retain the reproductive organs of a woman. Because he physically gave birth to the child, the man is seen as the mother; however, by law he is recognised as a man. In 2001, German law dropped the previous requirement for gender reassignment surgery in order to be lawfully recognised in a person's perceived gender. It was only in August of this year that Germany decided to include a 'third gender' option on birth certificates, where children born of indeterminate gender no longer have to be listed as either 'male' or 'female'. Germany has been the first country in Europe to adopt this change. The man's request to appear as the father on the birth certificate has been granted, but his demand that the child's gender not be released has been denied, according to the Daily Mail. Authorities have overruled this and announced that the child in question is a boy. At the father's request however, details about the sperm donor or any possible relationship have been withheld to protect the child from attention. (Source: Telegraph Group Ltd)
An election promise that lives up to its word
Germany's centre-left Social Democrats posted about 8000 campaign placards that it proudly hailed as "eco-friendly"and biodegradable. However, 48 hours later it rained and the waterlogged posters indeed biodegraded. Reported Hamburg's Spiegel Online, "None of the campaign workers could have guessed ... how quickly the environmentally friendly process ... would begin." (Source: News of the Weird)
Lavatory humour from literary giants
Fart jokes in literature are more common than you think ...
1) In James Joyce's Ulysses (1922) Leopold Bloom is described in a particularly unflattering scene as sitting "asquat the cuckstool ... seated calm above his own rising smell".
2) The author of Gulliver's Travels, Jonathan Swift, wrote an essay titled "The Benefit of Farting" (1722). He comes off as quite the flatulence connoisseur, writing "I take it there are five or six different species of fart." These are "the sonorous and full-toned or rousing fart", "the double fart", "the soft fizzing fart", "the wet fart", and "the sullen wind-bound fart". (Source: Mental Floss.com)
Picture this #1: Nivea might want to take the big-obvious-lie off their packaging...
Picture this #2: From the Taranaki Daily News, an unintentional bosom gag...
Picture this #3: Snapped at the Auckland Home Show. I don't see the connection between this gold naked lady statue and carpet...
Sport: Ultimate Dave cartoon on the Oracle postponement pass...
Video: A month or so back the internet was banging on about a movie called Sharknado (a b-grade horror about sharks being flung around the place by tornado-like water spouts), starring Steve from 90210 screening in America and geo-blocked everywhere else. But now Prime has nabbed the schlock, horror fest and will be screening it on Tuesday, at 8.30. Here's a taste...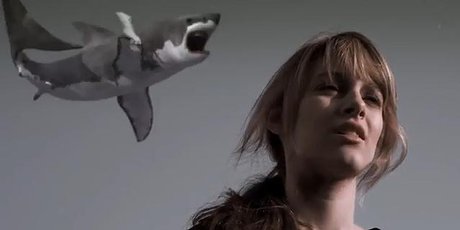 Got a Sideswipe? Send your pictures, links and anecdotes to Ana here.