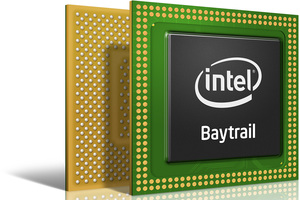 The boundaries are set to become increasingly blurred between desktops, notebooks, tablets thanks to Intel's soon to be launched Bay Trail CPU, which should see tablets, phones and other devices become even more powerful, affordable and energy efficient.
At the moment most of us tend to operate in a fairly clearly delineated world when it comes to the boundaries between the digital gadgetry in our lives. Most desktops or notebooks are running either OS X, Windows or Linux while smartphones and tablets tend to run Android, IOS, Blackberry 10 or Windows Phone 8.
Android & Windows Support
These boundaries however could become increasingly hazy as Bay Trail CPUs will natively support both Windows and Android, allowing hardware makers to build devices that can use either (or even more tantalisingly, both OSs interchangeably).
Intel's love for the confectionery clad little green robot isn't anything new either.
Last year, Intel began offering a Clover Trail Android 1.6GHz Intel Z2560 chip that supports Android and it is this chip that powers the Samsung Galaxy Tab 3.
Bay Trail CPUs will come in three different variants - T, D and M. Bay Trail T chips will be built for use in tablets while M will be used in smartphones and D for PCs.
Rather than being a just a CPU, Bay Trail is also a full system on a chip which should in theory lead to lowered manufacturing cost as motherboards should need even less components. Some industry pundits are also speculating that with Bay Trail, system hardware manufacturing costs could drop to as little as US$150 per device.
Battery Life improvements
Price aside, there's a bunch of other advantages to be had too. For a start Bay Trail uses a 22nm manufacturing process as well as Intel patented 3D transistor technologies which when combined with a bunch of other energy efficient design tweaks should see your phone, tablet or PC offering startling battery life improvements.
One of the big things that should stand out with Bay Trail chips aside from their sheer energy frugality is their ability to offer energy saving modes that don't impact performance. This is largely due to Bay Trail's ability to redirect energy saved as one part of the chip (such as the part that handles the camera) to speed up another part of the chip (e.g. the graphics engine).
Aside from being able to run on the smell of an oily rag, Bay Trail chips will also run cooler and wont need a cooling fan. In practice this should equate to quieter PCs, even thinner tablets and phones plus a new generation of next to silent media PC hardware.
Graphics
As with other Intel CPUs, graphics hardware is baked into the chip with the Bay Trail incorporating what Intel has branded Generation 7 graphics. In plain English, it should be a whole lot faster and if Intel's marketing bumpf is to be believed it will offer some pretty compelling capabilities when it comes to multi-media. Listed features include enhanced video compression and decompression, intelligent LCD backlight dimming for sharper phone and tablet displays (several big brand manufacturers already use this tech with LCD TVs to enhance contrast). The integrated graphics engine will also incorporate a burst mode which is a re-branding of what Intel currently call turbo mode that can speed up processor cores when extra demand is being placed on the hardware. DX 11 support is also there, which when combined with the other graphics capabilities, should translate into a big improvement for mobile gaming.
The other graphics capability that also sounds pretty compelling is hardware support for Wi-Di which allows smartphone and tablet users to wirelessly stream video to an HD Wi-Di compatible TV, potentially making photo and video sharing a far more social event.
Photography
If it stopped there you'd be forgiven for being impressed but there's more. Bay Trail chips will also have what Intel are calling an Image Processing unit built in. This should see Bay Trail equipped devices offering 1080P video capture at 60 frames per second, with built-in digital image stabilisation, intelligent low light noise reduction and the continuous shooting mode that is already present in Intel powered smartphones that should be able to take four hi-res images per second.
Performance
While some expressed disappointment over Clover Trail's performance, Intel say that the 'Silvermont' architecture that underlies Bay Trail chips should offer up two to two and a half to three times the performance of Clover Trail, all whilst reducing power consumption by about four and a half times that of Clover Trail chips.
As the PC market continues to stagnate, Intel are getting more strategically excited about what they have branded as the ultramobile market, where they see tablets playing a growing role. The different variants of Bay Trail should in theory give Intel coverage across all market spheres spanning smartphones, tablets and PCs.
As good as this sounds, competition is already intense. In South East Asia there are tablets available for as little as $199. For us consumers this is of course great news as competition spurs innovation, and innovation means even more gadgety goodness.