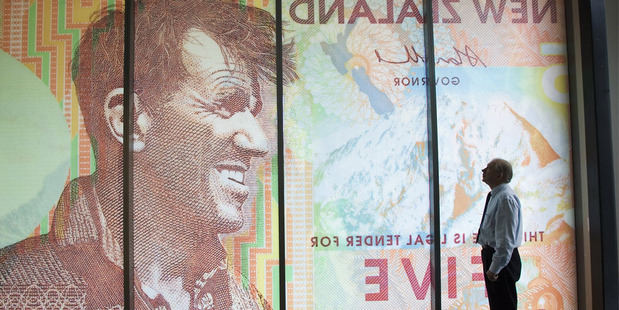 As the Reserve Bank of New Zealand (RBNZ) reported last week the local dollar has retained its status as one of the world's most-traded currencies, churning through an average US$105 billion of transactions globally every day during April (of which a daily US$12.4 billion traded in the local market).
The RBNZ figures, culled from the preliminary report of the Triennial Central Bank survey - a Bank for International Settlements production - show the average daily turnover of the NZ dollar in was up compared to the previous 2010 study, although the overall rate remains below the 2007 peak.
According the BIS report, New Zealand's currency ranks as the 10th most-traded in 2013, comprising 2 per cent of global FX turnover (surpassing the Swedish krona and the Hong Kong dollar compared to the 2010 result) while the US/NZD trade was the ninth most popular pair.
New Zealand's above-weight ranking in the currency speculation market may or may not generate a sense of national pride but it's a tiny part of the overall story.
The BIS study notes there has been a sea-change in the world's foreign exchange market over the last three years, reflecting a wider economic realignment.
"The currency composition of global FX trading shifted notably between 2010 and 2013, not only among the world's most actively traded currencies, but also among important emerging market currencies," the BIS report says. "The Japanese yen stood out as the major currency that saw the most substantial jump in trading activity, whereas the role of the euro as an international currency declined over the period. The Mexican peso and the Chinese renminbi saw the most significant rise in market share among major emerging market currencies."
As well as these currency trading shifts, the BIS study also provides further detail on the underlying players who contribute to the latest daily FX turnover of US$5.3 trillion.
'Reporting dealers', mainly large banks and other securities firms, made up 39 per cent of the daily FX trade volume and 'non financial customers' essentially, companies that hedge currency directly (a declining proportion of the total market) accounted for 9 per cent.
The 'other financial institution' category now covers 53 per cent of the daily FX turnover, according to the BIS. Of this grouping, smaller banks make up 24 per cent while hedge funds (including high-speed traders) and institutional investors account for 11 per cent each.
Meanwhile, and perhaps surprisingly, "central banks and sovereign wealth funds accounted for less than 1 per cent of global FX market activity in April 2013", the BIS report says.
The study also clarifies how little impact individual currency shoppers have on the market with only 3.5 per cent of global FX volumes "driven by trades of dealers with retail customers".