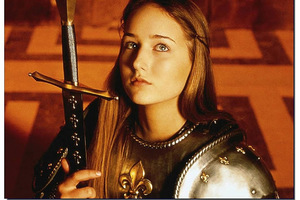 When something like the Miley Cyrus VMA hoo-ha happens it's good not to react too quickly; better to let things sink in and allow the dust to settle so the perspective is clear.
As Miley said, in a swipe at critics of her performance: "You're thinking about it more than I thought about it when I did it."
I don't doubt that for a moment.
So I'm glad I waited until Miley delivered her apologia for her performance. It made me see what I thought was a misconceived piece of puerile faux-bump and grind with all the erotic charge of an episode of Country Calendar in a whole new light. And I mean no offence to the rural community in saying that.
"Every VMA performance, that's what you're looking for: you're wanting to make history," she chirruped.
So if you thought you were seeing a girl simulating various sex acts with a man old enough to be her father, you were wrong.
You were seeing history being made.
In the course of her explanation, Miley compared herself to such great figures from history as Madonna and Britney Spears.
It had taken her half a week to come up with this explanation - which tells you at least that she is probably writing her own material.
However, her statement does display a somewhat skewed idea of what deserves the label "historic" and how to go about making history.
Mary Shelley was only slightly older than Miley when she wrote Frankenstein; or, The Modern Prometheus, singlehandedly inventing a sub-genre of science-fiction, and her influence is being felt to this day.
At no point during the writing of Frankenstein did Shelley find it necessary to mime masturbation on stage using a giant foam rubber hand. Although we can't say for sure that this wasn't just because giant foam rubber hands hadn't been invented.
Joan of Arc didn't make it to 20 before being burned at the stake.
But by then she had already come within a hair's breadth of defeating the English army and restoring the throne of France to the Dauphin - without needing to grind her buttocks into the Dauphin's groin while wearing flesh-coloured, skin-tight garments.
By Miley's age, Victoria had been Queen for two years and already had a firm grip on her empire. There is no record of the queen-empress ever needing to impress her ministers by lasciviously oscillating an apparently prehensile tongue.
Which is not to say that her tongue wasn't unusually nimble - the biographies are mute on this point.
Miley Cyrus is 20 and a jolly hard worker. Imagine what she could achieve if she was talented as well as ambitious. Her main occupation, however, is to get as much attention as possible, and she's really very good at it.
If she chooses to achieve her KPIs by being rude in front of lots of people, that's absolutely fine with me. But when she starts messing about with the language and traducing some of the basic concepts of our civilisation then it behooves one to draw attention to the points at which she has got things wrong.
The state-owned enterprise that publishes the School Journal is to close, largely because it lost a Government publishing contact.
Don't expect the Journal itself to last much longer. The decision not to bail out Learning Media and ensure continuity of this beloved resource shows, as if we needed reminding, that we value money ahead of reading, imagination, creativity, tradition, inspiration, history, art, stimulation, fun, language, writing, communication, children, dedication, variety, the music of words, open minds, canons, culture and memories.