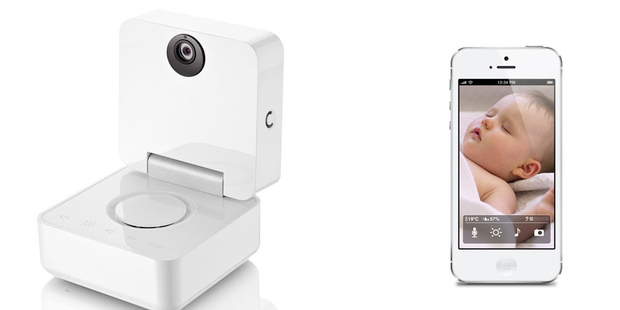 I've mentioned before that I find it rather incredible that companies (Pebble, Google, Samsung) have created and released 'smart watches' on the rumour Apple was going to. Apple hasn't, as yet, of course. But wearable smarts has a great future. Where a few decades ago a baseball cap with a propellor on it was the height of visibility geekery, then the digital calculator watch, now that smart personal devices are already in so many pockets and bags, the stage is set to broaden astronomically for clever tiny geegaws.
Pushing the coming explosion of smarter objects is the fact sensors are getting tinier and more efficient. While in Sydney for a few hours last month, Apple staff were demonstrating smart devices that interfaced with iDevices at the George St Apple Store. I had a plane to catch so couldn't see the actual demo, but projects seeking funding include little trackable tags you can put on almost anything. The smartest I've seen so far (online only, not in real life) is Tile, a little square tag that connects to iDevices via low energy bluetooth. Attach one to a valuable item and it can be traced if it goes missing.
Tiles are used in conjunction with the Tile app, which lets a user contact a particular Tile to figure out where you put your keys down, view a map of the last known location the Tile they fixed to their bike was at, and turn on a range view when you are within about 30-45 feet of a Tile. You can try and retrace your steps and find where you dropped a tagged item. There's a speaker in it to help you locate it. The Tiles don't have batteries and don't need charging - they instead last a year and ... then they need replacing. Recyclable? I don't know.
Other Tile users will also be aware of your Tile passing within range of them, and can help you locate stuff, so the more users the better. But ... they're not actually available yet - the company has the funding and they should be available soon. Check out the video at Tile - it's pretty interesting.
Tiles are iOS only so far, but a similar item is the Swedish Trax and will have an app for Android too. Trax has already surpassed its funding goal, but it's more designed around keeping young wards (or pets) within geographic boundaries you make on a map. Like a police restraint anklet ...
You can read more and see a video at Kickstarter.
Need a baby monitor? You can get them for $80 and up. A $349-$400 model adds not just audio, but motion detection. It uses under-the-mattress sensor pads (which I assume are waterproof) to detect a baby's movement - and an alarm sounds after 20 seconds if no movement is detected.
How about the Withings Smart Baby Monitor? It has a 3mp wide-angle video camera with night vision, plays lullabies, has a multicolour night light built in, and measures not just noise and motion but temperature and humidity. It's a bit like having one of those high-tech greenhouses where you monitor everything, except with this one, it's your growing babies.
The Smart Baby Monitor features Bluetooth, Wifi and Ethernet connectivity. Most importantly, for the $499 price tag, is that you monitor it from your iPhone, iPod touch or iPad (or Android). Whether you're at home, next door, at dinner or overseas! This is all via a free, private and secure account. The Withings SBM looks like an Apple device - white, clean lines, plain, simple, and modest about its complexities, although it looks like a little portable toilet once opened.
Talk about 'remote control' - assuming you have someone available to change the nappy, temperature, humidity and so on, or a kinder-care (or elderly-care, considering the state of some of our old people's homes) robot, although there are options for controlling some of these things remotely too, thanks to smart home devices including light fittings and air conditioners.
I use an app called B.iCycle to track my rides. It measures calories, route, fastest and average speeds, altitude and distance. It's just using the iPhone's GPS (I just shove the iPhone in my back pocket, since I wear ordinary shorts when I cycle) and calculates from data gathered en route plus your input settings for your weight, and bike weight and type. Calories burnt is more an educated guess than a measurement, but it's an interesting rough guide. More accurate would be something that actually measured what your body was up to.
Another Withings' device does just that. The Smart Blood Pressure Monitor uses a cuff on your arm, and this plugs into your iDevice directly with a cable into the charge port. Launch the free app, and it tracks your blood pressure. Consumer says some people like to monitor their own blood pressure because it gives them a sense of control over their treatment for high blood pressure, or as a motivator for those trying to lower your blood pressure.
On an iPhone, you get SYS and DIA plus pulse; on an iPad's larger screen you also get a graph covering all your measured results over months. The app is free, the device costs $229. You can buy cuffs with digital readouts from $80 (this was for discounted Omron models I found at yourchemist.co.nz), but the usual prices seem to be from $100 and up to about $450. The Withings device tracks and saves your results over time, so it really suits a user who needs to keep an eye on their blood pressure. Results over tim could be a help to medical professionals who need to see how you've been doing.
As Consumer says, "your doctor may recommend home monitoring to assess changes in your medication... [and] it's important you take a range of readings over several months and interpret the results with your doctor."
Another Withings device is a tiny blood tracker - weighing 8-grams, it can monitor your activity 24/7 and measure your heart rate. It talks to your iDevice and can be clipped to clothing or into a wrist band. Haven't seen them here, though, yet.
Last time I was at the doctor's, I mentioned the app Heart Rate, which shines the iPhone's camera light through a finger tip and measures tiny changes in the colour of the blood (or something) to establish your pulse rate. She scoffed, so I showed her while she measured me with a stethoscope. In this case it was so accurate she whipped out her iPhone and immediately downloaded the app. I'm sure that stethoscope is not redundant yet, though.
[Thanks to iStore, Takapuna for lending me the two Withings devices.]