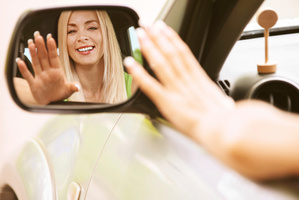 A wise reader made a comment on Six types of annoying people about another very annoying type of person I'd carelessly omitted to mention. Specifically, "[d]rivers with the right-of-way who stop and wave me through under the guise of being considerate when I am already stopped and waiting for them ... It achieves nothing but to slow everyone down."
Amen to that. I'm sure we've all encountered such a person, someone who for reasons known only to themselves urges another driver (who does not have the right of way) onwards. Figuring this motorist must be intent on convincing me to break the road rules so I get pulled over by a police officer, I am staunch in the face of such illogical behaviour.
I'll sit there all day if I have to. There are plenty of ways to fill in the time. I can change stations on the radio, programme my navigation system, rifle through my handbag and even apply some lipstick if necessary.
It can take a while but eventually the motorist will realise I'm not going anywhere and he (or she) roars off in a huff as if they are the wronged party when in fact they'd needlessly instigated and prolonged the entire charade. As the person who commented on the original article wrote, "[w]e all know the rules and are happy to abide by them because we know that everything moves faster when everyone obeys them ... Just take-the-right-of-way people!"
Those who are control freaks behind the wheel don't just target other motorists. Sometimes they dish up the same sort of random behaviour to pedestrians. I've seen drivers stop their cars when they see that someone is waiting on a footpath to cross a road. (I'm not referring to situations involving a pedestrian crossing which, of course, are entirely different.)
This is very dangerous for the pedestrian. Just because that one car has stopped, it doesn't mean another car won't overtake it - and it doesn't mean that a cyclist or motorcyclist won't whizz along the inside. Nor, obviously, does it mean the way is clear of traffic coming from the opposite direction.
It's an even more dangerous activity if there are two lanes of traffic going in that same direction; a pedestrian, who is lured into crossing the road in front of the stationary car, is at risk of getting wiped out by a vehicle travelling in the other lane. No matter how urgent the motorist's hand signals become I never take advantage of this offer either. Instead I move behind this vehicle just to avoid the awkwardness and uncertainty.
Have you ever been following a truck on the open road when the driver pulls over to the left slightly and gives you hand signals suggesting that you ought to pass now? Are they serious? I know they're the professional driver and I'm the amateur - and I know they probably have a better view of the road ahead than I do - but surely they don't expect me to put my safety and that of my passengers in the hands of a person I've never met. I'll pass when I can see that it's safe to do so and no amount of urging from a third-party will encourage me to do it a second earlier.
What's your response when drivers waive their right-of-way? What do you think motivates them? Have you ever overtaken a vehicle by putting blind faith in the judgment of a fellow road user?