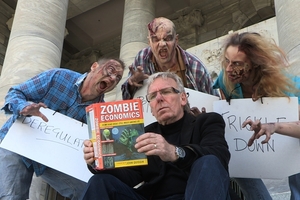 Only a heartless bastard would not have been moved by Mind the Gap, investigative journalist Bryan Bruce's latest examination of the parlous state of New Zealand society.
His hour-long documentary on the wide and widening gap between this country's rich and poor, which screened on TV3's Inside New Zealand on Thursday night, was a perfectly constructed piece of advocacy journalism.
You will recall that two years ago his documentary Inside Child Poverty encouraged fairly vigorous hand-wringing around the country about how a developed nation such as New Zealand could even have child poverty, let alone the level of child poverty it has.
Mind the Gap was on a connected subject which, for some, might be equally a mystery: how is it that the so-called top 10 per cent in New Zealand own 50 per cent of the country's wealth, while the bottom 10 per cent own nothing at all.
"Is that fair?" he asked earnestly, because Bruce is nothing if not an earnest seeker of the truth.
Only the heartless would reply: "of course", particularly after Bruce introduced us to his case studies. These included Tracy, a member of the "unemployed poor", who had been forced, because there was "no state housing available" for her, to live with her three kids in two tents in a relative's backyard.
"It's does get very cold at night," she said. "The youngest one does have epilepsy, so we've got to be cautious about that as well."
Then there was Jason, a supermarket shelf stacker earning $900 a fortnight before tax and a member of the "working poor". His family's weekly rent equalled 90 per cent of his pay packet and even though his wife worked part time the only way this working family survives is with the Government's accommodation supplement. Then there was the mother of five with a working husband (though on the "living wage") who was forced to buy canned corned beef because she could not afford fresh beef.
We were introduced too to what Bruce called the "struggling class", those who would once have been the middle class but now, though they might have jobs and their own home, only just cover their bills too.
We didn't get to meet the rich in person, but I guess we all know what they look like.
So what then was the reason for all this poverty and struggling he had found, and for the growing gap between rich and poor?
Well the villain of the piece turned out to be the same old offender: neoliberal economics, known in this country as Rogernomics.
Bruce paraded a number of learned economists from throughout the world to outline why the mania for trickle down, privatisation and market deregulation of the 1980s and early 1990s (including the slashing of benefits under National's Ruth Richardson) was madness, to confirm it was the Rogergnomes what done the crime and to suggest that their failed policies live on as "zombie economics".
Now I don't count myself as particularly economically literate, but even to me this reading of economic history came as no surprise. These are the same arguments the left has been making since the terrible unemployment and business closures that plagued the fourth Labour Government. The solutions for the problem too were not new to me: tax the profiteering rich while developing "social business".
Still, for all the sense of deja vu, this was good stuff and the story of Rogernomics certainly deserves retelling because there is no denying the Gap.
The only real bum note in this finely crafted documentary was the very odd intimation that the decline of Christianity in the middle of the 20th century was partly responsible for the Gap because the absence of God created a moral vacuum.
Bruce held up a copy of a 1966 Time magazine with the coverline "Is God dead?". He then said: "For a lot of people who said 'yes', the next question was: 'Why bother being good'?" As a heartless atheist bastard who despises religion but tries to be good, I call that argument a load of rubbish.
Follow @nzherald_ent on Twitter for all the latest entertainment news.
- TimeOut
Debate on this article is now closed.