Parents upset over contamination crisis cannot trust China's domestic products either, writes Hua Dong.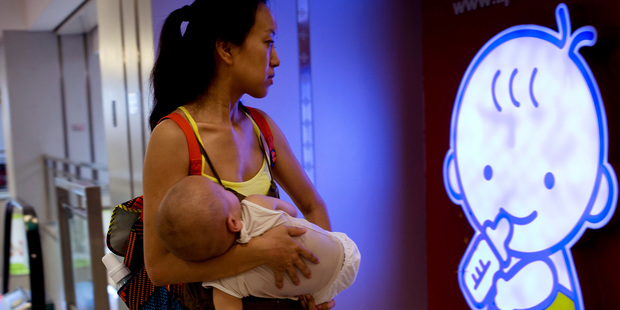 As a Chinese person who previously worked in the fast-moving consumer goods industry there, I've been following Fonterra's milk scare with much interest. I've now lived in New Zealand for over a decade so I can see the issue from all sides.
With Fonterra's position as one of our main exporters, the story has saturated the media here in New Zealand. In China the crisis has also been all over the media but the coverage has been even more emotional.
New Zealand's 100 per cent Pure image is suddenly being questioned by its loyal Chinese customers, and there's much confusion and dismay about the quality and credibility of Fonterra itself.
New Zealanders should not underestimate the emotion that Chinese people are feeling over this issue. Since the Sanlu scandal in 2008, the safety of infant formula has been one of the hottest topics in China. Remember, babies died after consuming formula contaminated with melamine.
It is not possible to reason with parents when they are concerned over the safety of their children's food. They are angry, upset and confused - and this is reflected not only in the state-controlled media, but also on social media.
On Sina Weibo, China's equivalent of Twitter with over 500 million registered users, Fonterra and New Zealand have been the hottest topics since Fonterra's contamination issues were publicised.
A survey was conducted on Sina.com's homepage that showed 79 per cent of over 43,000 respondents said they would not consider purchasing the affected products after this incident. Over 65 per cent of respondents felt this contamination incident was not a one-off event in Fonterra's manufacturing process.
Judging from these survey results, you would have to say Fonterra's botulism crisis has the potential to cause sustained damage to their business over a long period of time. This has only been further exacerbated by reports that the issue was first identified as a potential problem as early as March.
The delay in reporting this information to consumers has not been well received, especially now that Dumex, one of Asia's largest retailers of infant milk formulas, has found that over 400 tonnes of its product could be contaminated.
While you may question the accuracy of an online survey, Sina's survey results should be viewed with an understanding of the importance of food quality issues in China. The fact is that New Zealand's superior dairy products were highly regarded as an essential expense for many Chinese consumers.
Parents were too afraid to consume Chinese-manufactured dairy products because of numerous and sometimes quite shocking quality control problems in the past. The news that there has also been a local product recall of Karicare formula in the New Zealand domestic market has made the scenario seem even more serious in the eyes of many Chinese.
People are now starting to question not only the quality of Fonterra's products and systems, but also the quality of imported dairy products from elsewhere. Chinese consumers are losing sleep over paying a premium price for a superior imported product - and still finding it could harm their children.
At the same time there has been much discussion about why Chinese consumers feel more confident about imported products. Many are asking, "Why can't domestic firms lift their game and act like their overseas competitors in a professional manner?" The Chinese Government is keen to develop its own domestic industry and would like to see consumers switch to home-made brands.
But, sadly, this is a question that no Chinese person can answer with confidence. The credibility of domestic manufacturers cannot be established simply because of a failure of an imported brand. Credibility is something that takes time to build and it will be a long journey for domestic dairy firms to catch up and erase the shadows from the past.
Fonterra is fortunate that 70 per cent of China's dairy imports come from New Zealand so, in the short term at least, it will be difficult for Chinese consumers to find alternative sources of dairy products - even if the Chinese Government tries to restrict imports from New Zealand.
It will be easier for Fonterra to rebuild trust in its products than it will be for most domestic Chinese manufacturers to build confidence in their processes. As a PhD student studying marketing and communication, I highly praise the quality of New Zealand products and the ethical business philosophies of its companies.
Fonterra has done a good job in dealing with recent issues and I believe it has done its very best to prevent the potential risk to the end-user of its product. Yes, they could have told consumers about the potential problem earlier, but no one is absolutely perfect.
That Fonterra has been upfront and apologised and, more importantly, is completely reviewing its processes, should win back the confidence of its customers. It's this self-reflective attitude that is exactly what domestic Chinese dairy firms need in order to grow in the future.
Regardless of the cost of being transparent in the short term, Fonterra continues to be an iconic New Zealand company that should be a role model for many Chinese firms. And I think, despite its current challenges, that Chinese consumers will understand this.
Hua Dong is a Chinese migrant who has lived in New Zealand for more than 10 years. He is a PhD student at Massey University working on a thesis about corporate social responsibility practices in China.