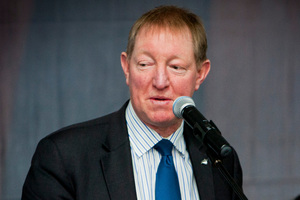 Saturday mornings at National Party conferences usually mean a lengthy discourse on the economy from Finance Minister Bill English, complete with copious complicated graphs.
Those props were missing yesterday - probably much to the relief of delegates who, the night before, had enjoyed too much of the home brew produced by Cabinet minister and Nelson MP Nick Smith.
Rather than home brew, English was more interested in Smith's observation that the last four governments had struck major trouble in their fifth year in power, with internal dissent and MPs joining other parties.
In contrast, National's fifth year has the party high in the polls and no obvious tensions.
English argued these fortuitous circumstances presented it with a "unique opportunity" to break the pattern of New Zealand's stop-start economic reforms.
But to win re-election next year would require far more than campaigning on its record or scaring voters with what might happen if the "Greens-dominated left" got into power.
English's message was that National had to maintain its momentum, so constantly needed new ideas and policies.
As for the ale, Smith joked the PM had put him back into the Cabinet so he'd no longer have time to brew beer and the party would be "a lot safer" as a result.