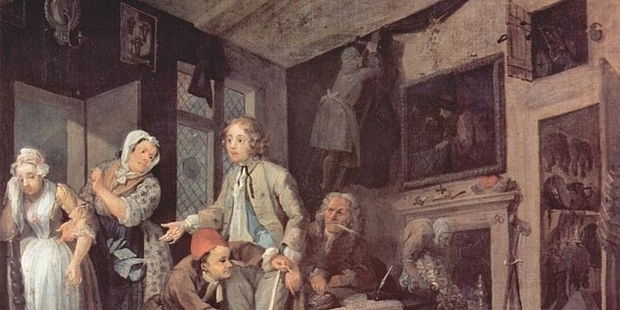 'Culture is the core of everything we do ... it is integral to our well-being and our quality of life," the Minister of Culture, Arts and Heritage, Christopher Finlayson, told the Creative New Zealand Arts Conference in a keynote speech in 2010.
But just what did that mean? More than just reading, looking, listening or even Kiwi creativity, I hope. If culture really is at the core of everything we do, as Mr Finlayson says, then a serious response to any of the arts should have the power to change our attitudes and our actions.
Which is why Stravinsky and Auden's opera, The Rake's Progress, is of such relevance for Auckland right now. After all, when a single work of art brings together the perceptions of such great minds as the18th-century British artist William Hogarth, the poet W.H. Auden and composer Igor Stravinsky, I believe we should pay close attention. Particularly if you are Minister of the Arts about to vote on a crucial act of Parliament.
The original source for The Rake's Progress is the sequence of eight paintings made by Hogarth in the early 18th century. These paintings and the subsequent engravings tell a story of the downward spiral of a young rake, Tom Rakewell, who inherits money but then wastes it all, mainly on prostitutes and in a tavern.
He tries to restore his finances by gambling in a gaming house but that only makes for greater problems. He ends up in a debtor's prison and finally in an asylum. But the force of Hogarth's prints is not so much criticism of Tom's sinning as on how much he is the victim of others and of the temptations the city provides.
Hogarth was a Londoner who loved his city and the people who lived in it but he was also deeply aware of the deprived lives of some, of the suffering that he observed around him, and the causes of that suffering. He was far from being a Puritan killjoy, but he despaired over what he saw as life and money being wasted by the "materialism of the city".
The opera which Auden and Stravinsky devised from the Hogarth engravings changed some details and created new characters but the thrust of it remained the same. It is Auden at his most entertaining and Stravinsky at his most classical and easily enjoyable, brisk and tuneful, yet it is still a dark story.
Auden extracts a simple moral from the engravings as an epilogue - that "At all times, in all lands ... since Eve went out with Adam: for idle hands and hearts and minds the Devil finds a work to do."
The similarities between Hogarth's London and present-day Auckland are frightening; huge wealth, terrible poverty, hungry children, massive alcohol abuse, and ever increasing opportunities to gamble away what little you have.
If the proposed deal for the extension of the SkyCity Casino goes ahead a few rich businessmen may be grateful. But it is the vibrant mix of peoples, many far from rich, who give Auckland its unique character, who will make it the world's most liveable city. And they will be the ones who suffer if Auckland becomes even more like Hogarth's London, with an enlarged casino providing a setting for the "Devil" to work on the "idle hearts and minds" that will be drawn there.
For those of us who care about both the arts and the future of Auckland this performance of The Rake's Progress is a unique opportunity to prove the importance of the arts.
If only the Minister of the Arts (who surely will be attending) can be persuaded to listen to what Hogarth, Auden and Stravinsky are telling him he must surely vote on his conscience and block the deal which will see 230 additional pokies and the 40 additional gaming tables installed in a casino that will be licensed until 2048. All supposedly to provide an un-needed Convention Centre that will duplicate what the Edge provides, just possibly enticing a few more big spenders to waste their extravagant carbon miles on getting here.
Stravinsky: The Rake's Progress, Auckland Philharmonia Orchestra, at the Town Hall tomorrow night.