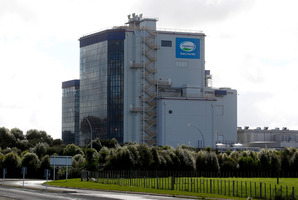 For the third time in five years, Fonterra has blotted its copybook in China and in one sense the latest blot is the worst of the three. Unlike the melamine scandal in 2008, this one is not the fault of suppliers in another country, and unlike the nitrate scare this year, it cannot be blamed on excessive regulations elsewhere. This time the contamination happened in a Fonterra factory here and the damage to New Zealand's reputation could hardly be worse.
Certainly no babies have died, as they did from melamine, and so far there are no reports of botulism or other illness caused by the infant formula produced when bacteria infested a Fonterra pipeline. The fact that the contamination occurred as long ago as last year, and has taken until this month to be confirmed, suggests that any sickness would have occurred already.
But the formula was still on world markets until the weekend. It is too early to suggest no baby's health has suffered.
Fonterra, and the manufacturers it supplies, can only wait and hope that the news becomes no worse. The commercial damage is bad enough.
Many are asking why Fonterra took so long to alert its customers to the risk. It appears to have taken two days to announce the contamination after it was confirmed by tests. Need it take that long to prepare an announcement of this nature? Obviously, the information needs to be delivered carefully so that the risk is understood and exaggerated fear is not created.
Even after two days, Fonterra was unable to say which of its customers' brands needed to be recalled and could only say that its own brands were not affected, which was not an endearing reassurance in the circumstances.
Understandably, parents who have been giving their babies infant formula will be asking why Fonterra did not make a public announcement as soon as it had reason to suspect some of its whey had been contaminated. It is a fair question, though the precautionary principle could cause a great deal of alarm. It is probably better to wait until proper tests give reason to be alarmed.
It is hard to imagine a more sensitive industry in the world than milk formula for babies. Thanks to Fonterra's success in China, and the Chinese distrust of their own manufacturers, the New Zealand product has been the gold standard in that vast and growing market. The Economist recently put New Zealand infant formula in the same league as Australian minerals as products that have enabled their country to come through the recession on trade with China.
But just as China's slowdown has hit Australia's minerals, a blow to New Zealand food safety reputation in that market could be felt throughout our economy.
No wonder Government ministers stepped in quickly at the weekend to see that the company was doing all it should to alert customers here and overseas.
Clearly in the Government's view, insufficient warning was given about one local brand, Karicare, which was still on sale on Friday night. It took until early Sunday for the company Nutricia to recall stage 1 and stage 2 formula as a precaution. The company says it has tested potentially contaminated cans and found none had been harmed.
But it will take more than testing to restore our food safety reputation in the rest of the world.
Countries where a scare makes headlines and subsequent checks find nothing will remember only the headlines. A lapse of hygiene on one pipe of one plant has put a cloud over our most successful export.
Fonterra and the Government now must show the world how far they will go to ensure the purity of all our primary products.
Too much is at stake.