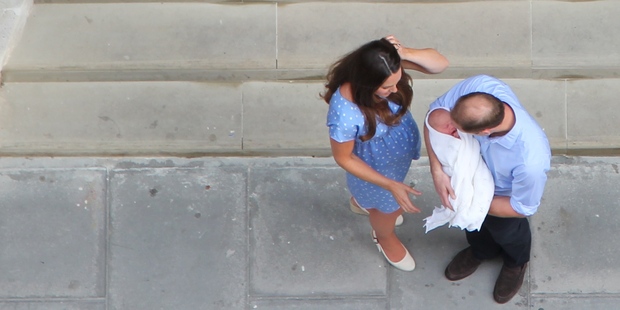 Despite the privilege, it can't be easy living in a fishbowl.
As a recent first-time father, I don't look at the Duke and Duchess of Cambridge with any envy.
Having to front up to the world's media just a day after giving birth to baby George is one example of how different they are from the rest of us.
After our daughter Jessie arrived at North Shore Hospital recently, partner Anna and I were happy to hide away.
She was hellishly sore; I was bone tired.
I didn't shave for a week; she didn't wash her hair for days.
Yet. Prince William and Kate looked as chipper as usual when they showed George off in public for the first time, something like 27 hours after he arrived in the world.
The obligation must be high, with so many millions around the world anxious to see and celebrate the future king.
And is there anything wrong with people wanting to be uplifted?
Anyone who has had a child will know the reaction from friends, family and barely-know-you colleagues is eye-opening.
You've joined the club, your life has changed, they know the severe highs and deep lows you're going to go through in the next few days and weeks, let alone longer term.
They want pictures, they want to be part of it.
In a world where headlines, particularly on the front pages, are overwhelmingly negative, isn't it just heartwarming to see people finding a reason for enjoyment?
Days old, and Prince George has made more people happy than most of us will in our lives.
Yes, tradition means much of his life is laid out before him.
But based on the way Princes William and Harry have carried out their roles, he will be able to set his own course.
And if he decides being a king is not for him, he won't have to be - others have passed up the honour in much more traditional times.
The Duke and Duchess are reviving interest in the royal family.
Support for a republic has, surely, never been lower in this country in recent years.
Is that a bad thing? They seem good people, most of us want to look up to them and support them.
The royalty is not marginalising this country, in fact it gives us access to a special club.
Why then would anyone begrudge Prince George's arrival and want to turn their backs on our history?
Come on Harry, you're next.