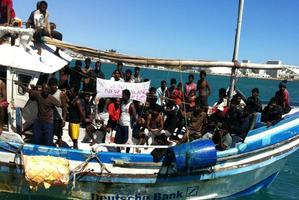 They're the faceless men, women and children Tony Abbott isn't so keen to talk about.
When the hard-boiled opposition leader addresses the desperate and dispossessed literally dying to get to Australia, it is entirely in the abstract.
Rarely a phrase passes his lips that isn't "Stop The Boats". The emphasis on the inanimate objects rather than the people risking their lives aboard them is callous and deliberate.
Each time a rickety craft founders, and fathers, mothers and children drown, the faces Australians see are those of politicians who have ensured asylum seekers now enjoy the same kind of public affection as paedophiles and axe murderers.
Demoniser-in-chief Tony can take much of the credit, but Prime Minister Kevin Rudd - sticking his finger to the electoral wind - is climbing on to Abbott's hardline bandwagon.
When Rudd was Prime Minister first time around he wound back John Howard's "Pacific Solution" in favour of more "humane" policies.
But the political imperative remains paramount, and voters in battleground electorates are in no mood to accept a cuddlier approach to queue-jumping illegals invading remote shores.
Just after Rudd's reincarnation, Foreign Minister Bob Carr played into their fears that asylum seekers take battlers' jobs by claiming most are economic migrants. Nine in 10 boat people are in fact found to be refugees.
Carr's officials have since drawn up new assessments on countries such as Afghanistan, Iran and Vietnam, and ordered the Refugee Review Tribunal to take them into account when making decisions. The prospect looms of more charter flights carrying would-be refugees back to where they came from.
It's part of Labor's latest attempt to neutralise one of the Coalition's key election weapons.
Forget the sorry souls risking all at the hands of people smugglers. Forget the Christmas Island officials, community members and life-saving Navy personnel who deal first-hand with the vicious cycle of human tragedy, and suffer long-lasting psychological trauma.
All are held hostage by the short-term agendas of Australia's two main political parties and the primary goal of election victory.
The moment the Tampa sailed into view in 2001 the asylum debate went from fraught to toxic, and has only got worse since.
Twelve years on the landscape is so warped that when politicians and the media routinely label the issue as one of "border protection" no-one bats an eyelid.
It seems Australia's borders are in need of protection from the vulnerable approaching Australia to seek protection. Politicians eyeing their own job security do little to challenge perceived threats.
This week Abbott talked of a "national emergency", implying Australia - rather than the countless individuals who die trying to get there - is the victim.
What would residents in countries bordering Syria, where more than a million people have fled the bloodshed, make of Abbott's "national emergency"?
Last year 16,000 of the world's 15.4 million asylum seekers tried to get to Australia by boat.
What slowed to a trickle during the Howard years has turned not to a flood, but a steady-flowing stream.
To stem the flow, the PM has gone for regional solution with Papua New Guinea. But it's likely to be too little too late, and a damning indictment on years of shameless partisanship that continued apace as the body count mounted.
Labor insiders argue with some justification they have been hamstrung by Abbott's determination to block solutions to keep the political fires burning. But it's a cowardly stance.
The boat people have been dehumanised in part because we know nothing about them.
Through the long lens of a camera we can just make out their Middle Eastern appearance, a term most commonly heard in public when police are looking for a criminal.
We know not their stories - no doubt filled with horror, heartache and heroism. We don't even know their names. The baby who was among nine who perished last week still lies in the island's morgue, anonymous.
As the Rev Tim Costello said: "Human dignity is embodied in a name, a name lets us share stories and share grief ... it is the engine for human understanding and emotion. I can only speculate that it is not in anyone's political interest to let us hear those stories and let us form that bond."
The shame is that Rudd, despite his better self, now sees no political advantage in ceding the hard ground to Abbott.
Had he and his Labor comrades had the courage to tell Australians the asylum seekers' stories, and the courage of their convictions to argue incessantly for that "humane" approach, they - and Australia - might today be in an altogether better place.