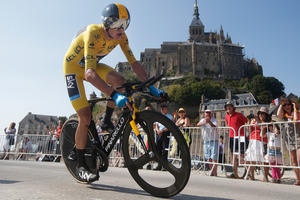 Chris Froome's domination of the Tour de France and extraordinary ride up the 21.8km climb of Mont Ventoux has met with a storm about its credibility.
At the end of the 242km stage, the Kenyan-born Brit scorched his way up the Giant of Provence in a time bettered only by Lance Armstrong. Froome was faster than a pantheon of dopers.
Froome is adamant he is clean, but should anyone be surprised if fans suspend belief given the history?
When Miguel Indurain dominated the Tour in the 1990s, publicists banged on about his superior heart, never mind a link to an EPO doctor. Lance Armstrong's transformation from a non-contender to Tourminator was spun as superior lactate tolerance, cadence and training.
Armstrong came along when cycling needed an inspirational story after the Festina scandal of 1998. His first of seven wins now stripped came the next year in the race billed as the Tour of Redemption. The Texan was aided by top administrators still there today as the sport searches for a new type of hero now Armstrong has been unmasked.
What of the vanquished this year on Ventoux? Former winner Alberto Contador said there was no reason to doubt Froome.
"He is at a very high level and has been all year. His performances are because he works hard. Sometimes you are stronger, other times you are less strong."
Fine, except the Spaniard is a convicted doper.
Sky's refusal to reveal Froome's wattage data (claiming it is an inexact science easily misconstrued), though not in keeping with transparency, is hardly evidence.
That the team breached its own rules by hiring a doping-tainted doctor who they ditched only after Irish anti-doping campaigner and former Tour rider Paul Kimmage got on the case, is not encouraging but neither is it evidence.
And nor is Froome's uncommon improvement during the past two seasons. There may be many reasons for his time-trialling and climbing lifting off, including, as a coach connected to Sky suggested this week, the team's exploitation of the "knowledge gap" banking gains in sports science supposedly ignored during an era when many teams considered hiring doping specialists more cost-effective.
The pattern of racing in this tour is encouraging. Riders and teams Sky included have faltered after earlier exertions, as though they have not boosted oxygen-carrying capacity overnight with smuggled blood bags.
Yet eight of the fastest 30 times up the mountain were set last week. And of those other 22 times, 18 were by riders subsequently caught doping.
But with improvements in science and equipment can the door ever be closed to the idea that a clean performances will one day surpass the drug-assisted? American Greg LeMond, who won the last of his three Tours in 1990, summed up the desire and the hope of fans when he said of Froome: "I want to believe in what I'm seeing. There can be spectacular performances without doping."
Panache undermined by doubt is a travesty but scepticism comes with the territory. With doping,innocence cannot be proven, and there's the rub. A clean Froome is entitled to be angry. He should direct his anger not at those who question, but at the dopers and the peddlers who have shackled him.