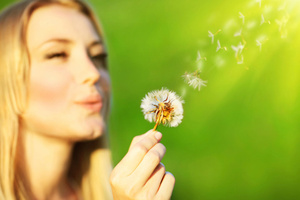 I hope your vision for what you want for yourself is coming together! Over the coming weeks we are going to refine it and start subtly evolving it from dreams into goals. For now though, we are allowing ourselves the time to explore, play and create without the pressure of deadlines and tasks. We are still in the stage of kicking ideas around to see what feels right for you. There is no rush. At the moment, the more ideas the better. This is all about tapping into your imagination, creativity and the voice of your inner self.
Here are some mind-expanding questions for you. Answer them honestly, don't edit yourself. The first response that jumps into your head is usually the right one. Don't second-guess and doubt yourself. Whatever your first instinctive response is, is totally fine. This is a judgement-free zone! We are just playing with thoughts and words here, just to see what comes up for you.
• If I knew I would absolutely succeed I would ...
• If I knew that, financially, things would totally work out okay I would ...
• If I knew no one else would be upset about my decision I would ...
• Secretly I've always wanted to ...
• If I knew it would be a success and I would absolutely rock it I would ...
• If I had more time in my week I would ...
• If I had the energy of my teenage self I would ...
• If I knew everyone would approve I would ...
• If I was given a year's sabbatical on full pay I would ...
• If I knew it would magically all work out I would choose to ...
• If I knew I only had 10 years left to live I would ...
These are your thoughts, wishes, dreams, hopes - without fear. Interesting hey? I am sure there are a few themes running through your answers. Note what you have learned here about yourself-without-fear:
• The themes I have observed in my answers are ...
Good job. You may want to make a note of what you have discovered here in your Habits of Happiness journal. You don't need to do or change anything right now, this is just juicy food for thought as we move forward.


Louise Thompson is a life coach, yoga teacher and corporate escapee. For more from Louise, visit positivebalance.co.nz or connect on Facebook.