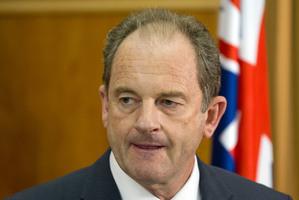 Is there a coup underway in Labour or not? The strange story of an alleged Labour leadership challenge is best summed in TVNZ's Labour MPs rubbish leadership coup rumours. What is particularly interesting about the coup rumours is that the main discussion took place on Twitter over a few brief hours on Wednesday night - Toby Manhire has documented this well in his blogpost, The night of the long tweets.
The protagonist was RadioLive's Duncan Garner who sparked the whole conversation and his explanation of what happened is worth listening to here: David Shearer will be gone as Labour leader soon. For a transcript of some of Garner's ongoing RadioLive discussion of the coup rumours, see Pete George's Cosgrove proves Garner's coup claim.
Duncan Garner is now being roundly criticised and mocked for his role in the rumours. See a parody of his tweets in Scott Yorke's More top Garner tweets, as well as Yorke's own satirical uncovering of That letter. For another satirical take, see Ben Uffindell's David Shearer stages coup against self, declares 'it's done'. Selwyn Manning's What's All This About A Leadership Coup? offers a more serious analysis.
But which Labour MP could be secretly talking to Garner? See Cameron Slater's Who done it?, and Claire Trevett provides some astute observations in Rumour mill detects coups in every corner.
Clearly the coup rumours relate to Labour's controversial 'man ban' suggestion and Shearer's handling of the issue. Today, Vernon Small examines that issue and says that Shearer made the 'right call' - see: MPs must share 'man-ban' blame.
Others have been less impressed with Shearer's handling of the 'man ban'. Richard Harman of TV3's The Nation gives his perspective in How Shearer stuffed up the "man ban". See also, Keeping Stock's How NOT to win friends (in the media) and influence people and Scott Yorke's On that women-only proposal. And today Brian Rudman gives his criticisms in Shearer running scared over women in the House.
The best critiques of the 'man ban' this week have been Selwyn Manning's Why Labour Should Take Moroney's Tip & Put This 'Man-Ban' Silliness To Bed and Danyl McLauchlan's Man Ban Thank you Ma'am.
Further condemnation of the proposal can be found in Michael Laws' Labour's sexist suicide mission and the Dominion Post's Drop the man-ban agenda. But for a more even-handed and interesting view, see the Herald's Voters will decide value of 'man ban'.
Feminism (and mechanisms such as the 'man ban') is often assumed to be intrinsically leftwing. These days, however, much of the Establishment and rightwing of politics embraces feminist principles and ideas. Accordingly, one of the loudest voices in favour of Labour's 'man ban' was rightwing commentator Fran O'Sullivan - see her column, It's time for more girl power at the heart of democracy. Similarly, Phil O'Reilly, of Business New Zealand, argues for Making women's influence in business greater, and Alasdair Thompson (ex EMA) is also somewhat sympathetic - see his blogpost, Labour's Man-Ban.
So why do so few women go into politics? Chris Trotter says that it's because electoral politics is generally the domain of sociopaths - see: Women fail to make grade in immorality. Coincidentally, the latest edition of New Zealand's Political Science journal Special Issue: Women and Politics is freely available online, and includes Petra Meier and Emanuela Lombardo's article on 'Gender quotas, gender mainstreaming and gender relations in politics' and Hilde Coffé's article, 'Gender and party choice at the 2011 New Zealand general election'.
Good satirical pieces on the 'man ban' include Ben Uffindell's Labour proposes ban on Trevor Mallard and Scott Yorke's A special notice from the Labour Party to its members.
Shifting from gender politics to racial politics, similar levels of outrage and mirth have greeted the supposed launch of a Pakeha Party. The Facebook page of the Pakeha Party has received about 55,000 likes. For coverage of the phenomenon, see TVNZ's Pakeha Party considers registering as popularity soars and Laura McQuillan's No political support for Pakeha Party. See also Kate Shuttleworth's Pakeha Party founder admits criminal background and Charlotte Whiteacre's Pakeha Party founder discusses future.
There have been many leftwing critiques of the new 'party', including The Standard's Why the Pakeha Party is great news for the Left and Socialist Aotearoa's Making sense of The Pakeha Party. But easily the most interesting point of view, has been Mark Blackham's critique of those criticising the Pakeha Party - see: You are what you claim to hate.
For the best lighthearted takes on the party, see Ben Uffindell's Pakeha Party to fight for more coffee, cheaper DVD box sets and What's in the Pakeha Party platform?, and also Toby Manhire's "Pakeha Party" launched - a new voice for non-racism.
What about other ethnic-based parties? Two very good, in-depth accounts of where the Mana and Maori parties are at can be read in Simon Day's Is Hone Harawira the saviour of Maori politics? and Anthony Hubbard's Tribal warfare or the promised land?.
The electronic domain is an increasingly important source of political competition and intrigue. Wikipedia is one of the arenas of conflict - see Michael Fox's Critic claims censorship on Collins Wiki. And the use of private email accounts by MPs and ministers also comes under scrutiny from Heather du Plessis-Allan in her six-minute item, MPs quizzed on email security. But what about those direct messages sent via Twitter? Jackson James Wood has been carrying out an interesting experiment under the Official Information Act - see: Are Twitter DMs official information?, and Steven Joyce, and Judith Collins.
The latest must-watch item on the GCSB bill is Campbell Live's 16-minute Dissecting the GCSB bill. For more on how the spies obtain their information, see Tracy Watkins' Koru Club - where secrets are spilled. And for a humorous submission on the legislation, see Lyndon Hood's The One True Submission On The GCSB.
There's a crisis of confidence in New Zealand political institutions and politicians. That's one interpretation of the latest Transparency International global corruption report, which included a survey of 1000 New Zealanders. The results for this country suggest that political parties in particular are perceived as being corrupt, along with institutions such as Parliament and the media - see my blogpost, Corruption in New Zealand survey.
A new report shows Schools divided along wealth lines according to Nicholas Jones. He also reports other controversial views on the education system in Shake up time, says schools guru. For another interesting education article, see Kate Shuttleworth's Student failure claims inaccurate and simplistic - PPTA.
Investigative journalist Jon Stephenson is fighting back over Defence Force criticism of his landmark Metro article about New Zealand's role in Afghanistan - see Rebecca Quilliam's Journalist 'attacked' by Defence Force and Stuff's Defence chief changes mind in defamation case.
The latest Metro Magazine has some good political items: David Slack writes a 2051 obituary for David Shearer, Matthew Hooton examines the legacy of the Tomorrow's Schools education reforms and Steve Braunias asks 'Is this the most conformist age since the 1950s?' And you can read Braunias' latest Secret Diary of Kim Dotcom.
Finally, should New Zealand have a formal separation of church and state? On Saturday, Victoria University of Wellington is hosting a seminar - Constitutional Conversations on the Separation of Church and State in NZ. I'll be participating in the conversation along with some interesting experts and commentators, including columnist and playwright Dave Armstrong.