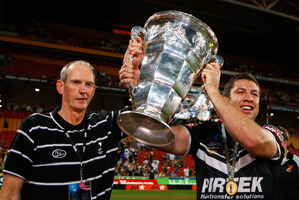 The announcement of Ivan Cleary as assistant coach of the Kiwis was a surprise to most and accepted by most.
There hasn't been a bad word about the appointment and I think it's a really nice fit for the team; all concerned should be congratulated for looking outside the square again prior to the World Cup.
Just as in 2008, with Wayne Bennett's selection to the role under Stephen Kearney, this is innovative in that it is only temporary. Many teams have assistant coaches but on a full time basis. They make a major contribution to the structure of a team - but a temporary coach brings the freshness needed to revitalise a side.
It is still considered that Stephen is an inexperienced coach and he needs as much help as he can get - but he is smart enough to know what will work for his team.
However, this type of appointment also displays a selfless attitude for the benefit of the bigger picture.
He's also extremely brave to appoint an assistant who may take credit due to him if his team wins the Cup again later this year.
It has been the perception that Bennett was the catalyst for the team excelling beyond expectations to upset the Australians in the last World Cup. The same may be said about Ivan if the same thing happens. That's why I think it is a brave move by Stephen.
There is no question that Ivan will play a low key role but, unfortunately, it is a high-profile one. There will be analysis of what he does.
We know how Ivan treats people and, more importantly, his players, so he will not be overwhelmed by the task or the fact it is an international assignment. He will certainly not try to exert influence as the full time first grade coach and senior statesman.
Stephen may be brave to take on another coach but there is no need for him to worry about Ivan seeking his job in the future. A straight-talking Ivan Cleary would tell Stephen if he was considering such a thing - but I don't think this is a situation that will arise.
Players will love having Ivan as part of the team and will benefit from his composure in the heat of battle. As there will be more players from outside the Warriors in the Kiwis team, Ivan's inclusion will help to create a more relaxed environment. Those who haven't had a great deal to do with him will be surprised at his presence.
As a coach, he will make a major contribution on the field and bring out the best in players. He'll also inspire and bring out a better Stephen Kearney and assist in the return of the Cup.