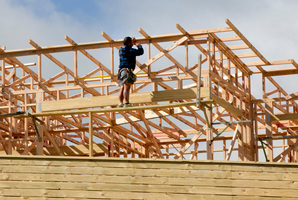 Developers and builders are frustrated by delays and consent costs. Photo / Mark Mitchell
The councils in our biggest cities are increasingly seen as one of the big roadblocks for economic growth. This week's drama in Christchurch concerning building consents is symptomatic of the tensions building between central and local governments over the inability of New Zealand's biggest cities to grow quickly and affordably.
This wasn't just an earthquake issue. The problems in Auckland are not that different.
The Reserve Bank is also worried about how the lack of affordable housing is helping create the risk of a housing bust that shakes the stability of the banking system. It is on the verge of clamping down on the growth of low-deposit loans to slow the rise in house prices. It has even threatened higher interest rates that would slow economic growth generally if this housing supply blockage can't be removed.
Developers, builders, renovators and potential home-buyers are champing at the bit. They are often frustrated and angry about the time it takes and the costs for consents. The increasing tendency of councils to load a bigger share of infrastructure costs on to developers at the margins - rather than spread it thinly across ratepayers through general rate increases - is particularly maddening for developers and buyers of new homes.
It's almost as if the councils are actively trying to stop growth.
Bill English's recent comments to a Wellington audience about Auckland's planning delays indicates the tone of the thinking in this apparent tussle between central and local government.
"We cannot let 20 planners sitting in the Auckland Council offices make decisions that will wreck the macro-economy," he said. "We cannot let that happen, and we won't let that happen."
So what could be done sustainably to unblock the system and change what is seen as a culture biased against growth?
The initial indications in the Christchurch situation and with legislation allowing a central government override for consents is for an old-style intervention to "take control of the problem".
Such centralised decision-making on such finicky and inherently local problems could backfire though and might further slow down the process.
What if the incentives were changed?
At present, councils don't really benefit from population growth because they have to pay for the roading, sewage and water infrastructure that goes with that growth, but are not compensated through the rates system.
The current rates system discourages and therefore limits growth as evidenced by the metropolitan urban limit. It has also led to huge development levies designed to avoid the politically painful rates increases that ratepayers have become tired of over the past decade.
Instead, what if councils received grants based on population growth and the income growth of that larger population?
That would change the incentives and encourage growth from the ground up. That's how many councils and local governments in Europe operate and they have much more affordable housing with a more positive approach to growth, even with plenty of regulations covering building sizes and types.
Perhaps the Government should be looking at changing these financial incentives for councils, rather than swinging a large hammer down from on high to crush the opponents to growth.