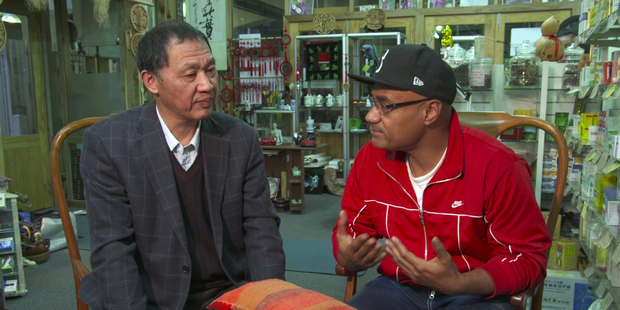 Kightley became convinced there was something to it, as his mate was quite like a pig, and he was such a rooster.
Are you a noble dragon, a cheeky monkey or a grumpy mole? You can hear the armchair critics now: how can they make such frippery? In this case, an Inside New Zealand documentary special about the Chinese zodiac, presented by Oscar Kightley (Wednesday, 9.30pm, TV3).
Given the large number of Chinese living in New Zealand, it was relevant frippery at least. As Kightley explained, the system categorises people into 12 animal types, based on the year in which they're born, and combines that with their element (fire, earth, metal, etc), also determined by birth year. Marriages, births and business deals are predicated on the basis of this age-old tradition.
Kightley became convinced there was something to it - his mate was quite like a pig; he was such a rooster. I thought he might be a galah, but nonetheless, I eagerly waited to hear the characteristics of the Year of the Sheep, and was pleasantly surprised to find I identified with its traits.
Who doesn't like to check their horoscope, accepting or rejecting the advice that suits?
By this reasoning, you could assume you share your personality type with most of your classmates. But apparently it's more complicated, involving other animals related to the time you were born. Granted this was a beginner's guide, along the lines of a doco on psychics - impossible to prove or disprove. That wasn't the point, of course. And thanks to Kightley, it was easy to enjoy this light-hearted romp through the personality types.
If nothing else, the Firehorse Films production (get it?) was a fun insight into Chinese culture, and a chance to get famous Kiwis talking about themselves. There was Jackie Clarke, (a self-described selfish firehorse), Sam Hunt, (a "friendly" earth-dog), Keven Mealamu (a sheep who likes things to look good) plus prominent members of the Chinese community, such as lawyer Mai Chen. Even Winston Peters had his say on the signs.
There were some hilarious quotes. From Colin Mathura-Jeffree, a reluctant rat, when told by Kightley that rats try to profit from everyone: "I thought that was being Indian." And this pearler from astrologer Bill Watson: "Westerners see the beads but the meaning is in the string, okay? That's what makes it a necklace."
Even sceptic Vicki Hyde, who did her best to discount it all as nonsense, denied that she bore the traits of a tiger, while wearing an animal print top. Priceless.
As if having a baby on the most auspicious date of the year didn't come with challenges, now there's the added pressure of your little one not being fabulous enough.
Monday night's E! Channel special Blinging Up Baby reported on the ridiculous extent to which celebrities spoil their offspring (and themselves). Not surprisingly there were images of a pregnant Duchess of Cambridge, whose babymoon accommodation in Muscat was said to cost $17,000 a night. There were pimped-out cribs, baby shopping sprees and expensive "push presents", ironic really, considering the number of Caesars in Hollywood.
I learned that Mariah's twins sleep beneath a $100,000 multi-coloured chandelier, Suri Cruise has a $2000 Dolce and Gabbana raincoat and Beyonce and Jay-Z's bub has her own suite at Brooklyn's sports arena, the Barclays Centre, costing her parents US $1 million a year. Most importantly, I learned the best way to get rid of baby weight is to start before the baby has even checked out, and preferably at a pole-dancing class. My prediction for next year's trend: famous babies who visit Chinese Zodiac experts for fashion advice.
- TimeOut