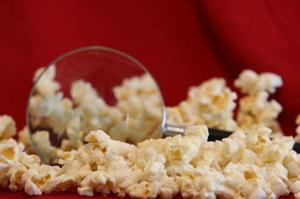 The 2013 New Zealand International Film Festival is just around the corner and I, for one, am excited almost beyond words.
For the film festival is that one time of the year when films that normally wouldn't hit our big screens get rolled out, en masse, like an oasis of worthiness popping up in the great desert of Hollywood hokum.
One of the most exciting things about the film festival is the day the programme comes out. If you're old school like me, you grab a hard copy and thumb through it, reading the blurbs and putting ticks beside all the ones you want to see. It is like perusing the fare at an all-you-can-eat cinema buffet, then piling your plate so high with filmic yumminess that you cannot possibly eat it all, but you're damn well going to try.
With this is mind, and to maybe in some small way help (or hinder) the selection process for all the cinephiles out there, I have devised a game to help sharpen the criticial faculties needed when perusing the film festival programme.
The game is simple, because all you have to do is match (a) what the programme says about the film; with (b) the name of the film and what a critic has said about the film.
So, fill your boots and if this tasting selection is anything to go by, it will be a fun-filled festival for all.
WHAT THE PROGRAMME SAYS
1. "There are clear nods to Dostoyevsky, but the student's descent into ever more horrific depths is only one element ..."
2. "A fresh, unclassifiable genre mix of sly humour, hardcore guy action, psychological thriller and murder mystery ...disconnected from any other social reality where the id can run wild."
3. "What threatens to descend into an arthouse horror show of physical indignity piled on to psychological torture in the end becomes something more sad ..."
4. "At heart Anna Maria's devotion is a frantically private affair, self-administered in bouts of flagellation or progressions around her obsessively spotless apartment on her knees. When Anna Maria's estranged, wheelchair-bound and devoutly Muslim husband appears from who-knows-where ..."
5. "Drawn out of his shell rather late in life by the patent unhappiness of a mysterious young female client, we see him take his first timorous steps towards romantic connection with a living woman ..."
6. "How do you assess your own personal worth? And how much money would you pay to get revenge on the neighbour's dog that keeps defecating in your backyard?"
7. "Here his rhapsodic contemplation of ... humanity's fall from grace ... draws explicitly on the erotic connection between man and woman."
WHAT THE REVIEWERS (AND I) SAY
A. Apparently The Best Offer "chisels a complicated intrigue out of an amorphous atmosphere of neurosis, wealth and sophistication", if Deborah Young of the Hollywood Reporter is to be believed. The use of the word "sophistication" tells us this is not an Adam Sandler film.
B. Once Andrew O'Hehir from salon.com "surrendered to the ebb and flow of ... the elegiac and almost anti-narrative mode", he seemed to quite like To The Wonder, to the point he "never wanted it to stop". I'm sure all the bonking in the film had nothing to do with it.
C. Heli, which claimed the Best Director prize at Cannes for Mexican film-maker Amat Escalante and about which the Guardian reviewer said "Squint and the title makes more sense". Okay, if you insist, Guardian reviewer, or possibly you need new glasses.
D. When Time Out New York film critic Keith Uhlich went to see Stranger by the Lake, he clearly had something of an epiphany if his "horrible realisation that meting out death does not preclude love" is anything to go by. This is apparently also the mantra for 7 out of 10 serial killers.
E. PARADISE: Faith, about which John Waters in Artforum said: "I laughed uproariously through this horrifying portrait of a religious fanatic". As you do, John, because there are few things funnier in this world.
F. Norte, the End of History also takes up a lot of the present, if Film Comment reviewer Jonathon Romney is to be believed when he says, "using those four hours to take a narrative in unexpected directions, it was beautiful and unexpected". So unexpected he used the word unexpected not once but twice - or possibly he was just exhausted after watching 250 minutes of Filipino filmic-ness.
G. Joe Leydon in Variety felt that Cheap Thrills played "like the mutant offspring of Harold Pinter and Quentin Tarantino". The thought that Quentin Tarantino and Harold Pinter could somehow conceive, gestate and eventually have a baby together is, I think, the basis for a whole other film; one I'm not entirely sure the world is ready for.
ANSWERS
1. F, 2. D, 3. C, 4. E, 5. A, 6. G, 7. B.


Follow @nzherald_ent on Twitter for all the latest entertainment news.