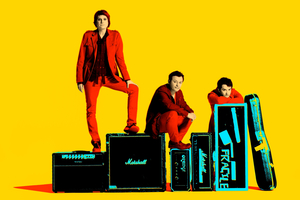 The reason that Manic Street Preachers - once upon a time, the angry young men of Welsh rock, now hardy perennials - finally made it here after 20-plus years wasn't for their confounding guest spot on The X Factor this week. Though the song they played, If You Tolerate This Then Your Children Will Be Next, certainly made for a pithy comment on the show itself.
But no, they were here because they had been following the Lions tour to Australia.
And gigs there had turned into a show here. Which provided a chance for various Auckland Joneses, Evanses and Williamses to unfurl their dragon flags and come along to help fill out the Manics' rousing feelgood choruses. You know, the ones with titles like Your Love Alone is Not Enough, From Despair to Where, and their cover of Johnny Mandel's M*A*S*H theme, Suicide is Painless.
So this show could have just been about happy ex-pats singing sad anthems from the Manics' songbook.
But it turned out to be so much better than an antipodean fanclub social at Vector in its comfy half-arena mode.
It was a stirring reminder that the MSP are, as they've always been, a band apart - and a really good one at that.
That was apparent from the beginning of Motorcycle Emptiness which kick-started a spirited set of 20 or so songs, tracks drawn from that angry but tuneful period between 1991 debut single Motown Junk and the career-peak late 90s albums of Everything Must Go and This is My Truth Tell Me Yours.
One taut, unfussy - save for occasional guitar solos leaning toward hair metal - song came delivered, one after the other. Singer-guitarist James Dean Bradfield's biting tenor soared through songs like You Stole the Sun from My Heart and the symphonic swagger of Design for Life , while they still played early punky tunes like Revol as if they meant it.
Bradfield was just as compelling in a mid-set solo acoustic turn on the ballads Everlasting and Small Black Flowers That Grow in the Sky.
The latter Bradfield introduced with a tribute to its lyricist Richey Edwards, the original member of the group whose 1995 disappearance and presumed death has cast a long sad shadow over the band's history.
There was also, of course, talk of rugby. "I was waiting for that pantomime bit," laughed Bradfield after the predictable response about local support for Australia in the Lions series and he offered belated congratulations on that trophy our boyos won in 2011.
Tall, glammed up bassist Nicky Wire apologised for being the reason the band pulled out an Auckland Big Day Out appearance a decade-plus ago and did a shout-out to label Flying Nun - support act Ghost Wave proving a fine example of the NZ's label ethos in their enjoyable opening set, which if you squinted your ears could sound a reincarnation of the Clean.
As for the headliner - yes, cosy Welsh-NZ relations probably got just that bit cosier after this. And yes, they were largely preaching to the converted. But this long-overdue Manics show was a great redemption, and proof there's still fire in these here dragons.
Who: Manic Street Preachers
Where: Vector Arena
Reviewer: Russell Baillie