We need to do more to celebrate our innovative agriculture sector, says Nathan Guy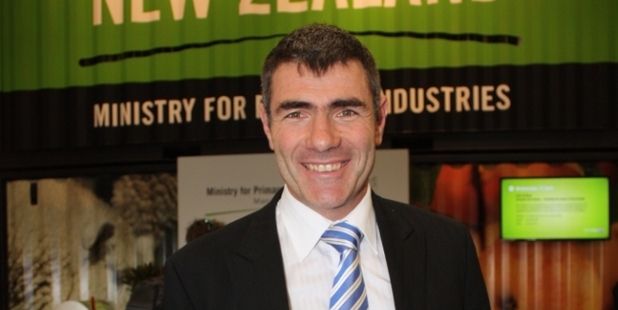 The severe drought this year was a brutal experience for many farmers, but I believe it has had one important positive outcome.
If nothing else, it has reinforced to urban New Zealanders just how important primary industries are to our economy and way of life.
They remain the powerhouse of the economy, generating around $30 billion a year and making up 72 per cent of our exports. When they suffer, so does the rest of the economy.
The drought was probably the worst experienced in 70 years and the effects will be felt for some time, but in longer term outlook and potential for growth is exciting.
The latest outlook from the Ministry for Primary Industries suggests primary sector revenue will grow annually by more than 7 per cent for the next four years.
As a Government we want to do even better than that and have set an ambitious goal of doubling primary sector exports by 2025. It won't be easy, but we have a clear plan on how to get there. New trade deals will play a big part, like the free trade deal with China which has already been a major success.
Since signing the deal in 2008, our exports to China have tripled - going from $2 billion in 2007 to $6.9 billion in 2012. In April this year China overtook Australia to become our largest export market.
The rise of developing nations, particularly in Asia, represents a huge opportunity. As these populations grow and become wealthier their appetite for safe, high quality food products produced by New Zealand will continue to grow.
This is why we are negotiating free trade deals with India, Russia and Colombia, and working hard on the Trans Pacific Partnership which includes US and Japan.
The potential in Latin America is also huge, as I saw first-hand on my trip with the Prime Minister earlier this year.
To meet this rising demand from around the world, we know that increasing productivity is the key.
For example, we now produce the same amount of sheep meat as we did in the early 1980s but with around half the number of sheep. We know that an annual 1 per cent increase in productivity means an extra $4 billion a year in exports by 2025.
Farmers have made great use of science, technology and innovation over the years to become world leaders.
The Government is now giving this a major kick-start with the Primary Growth Partnership (PGP).
A total of $670 million is being invested by Government and industry into 15 projects to boost productivity and sustainability in the primary sectors.
This is a major research boost, and the potential benefit to the wider economy from these projects is over $7 billion per year from 2025.
Some of the current projects include red meat sector collaboration, manuka honey trials, harvesting trees from steep land, improving the precision of seafood catches, and selective breeding of greenshell mussels.
The drought this year has also shown the urgent need for irrigation development.
New Zealand is lucky to have a plentiful supply of fresh water, but we need to do a better job of managing and using it. It drives our economy in the same way minerals do for Australia and oil does for Saudi Arabia. Only 2 per cent of the rainfall in New Zealand is captured for irrigation use, the rest just pouring out to sea in rivers. Clearly, we don't have a shortage of water in this country - we have a lack of water storage facilities.
Increasing irrigation could see a further 420,000 hectares of irrigated land becoming available for a range of uses, creating thousands of new jobs and boosting exports by $4 billion a year.
This is why Budget 2013 has confirmed $80 million in funding for regional irrigation projects. In total, the Government has signalled plans to invest up to $400 million to encourage third-party capital investment.
A new Crown company has just been established to act as a bridging investor for irrigation projects.
This will involve short-term, minority investments to help kick-start these regional projects which otherwise might not get off the ground.
At the same time, any new irrigation projects will have to show they are sustainable, balancing economic and environmental outcomes. We are seeing this with the proposed Ruataniwha scheme in the Hawkes Bay which is now going to a Board of Inquiry to consider all the evidence.
It's also worth noting the potential environmental benefits that irrigation can bring, particularly through more consistent river flows which improve the habitats for fish and birdlife while taking pressure off groundwater aquifers.
I believe most farmers are environmentalists, and want to leave the land in a better state than they found it. Environmental sustainability will continue to an important part of getting our products into lucrative markets.
We also have huge potential in the 1.5 million hectares of land under multiple Maori ownership. Some iwi are well organised and have their asset base generating good returns, while others haven't realised their true potential yet.
Lifting productivity to average industry benchmarks could result in an additional $8 billion in gross output and 3600 new jobs for the primary sector.
Protecting our primary industries from unwanted pests and diseases will continue to be a major challenge, and the number one priority for me as Minister.
To give some context, around 175,000 items come across our border each day, and we receive around 10 million travellers a year.
Overall we have a world class biosecurity system.
Funding has doubled since 2000 and over the last six months we have recruited 56 new frontline biosecurity, and a further 30 are being recruited shortly.
We are also working closely with officials in Australia and Britain on our preparedness for any major incursions, because we can learn a lot from both countries.
Finally, given that the average age of a New Zealand farmer is 57, another challenge facing our primary industries is attracting the best and brightest of our young people.
We need to do a much better job of celebrating and promoting this important sector to all New Zealanders.
On that note, I want to congratulate the New Zealand Herald for this feature on agribusiness.
In the 1980s David Lange infamously described farming as a "sunset industry". The reality couldn't be more different, as New Zealand's future will always be underpinned by our primary industries.


• Nathan Guy is the Minister for Primary Industries