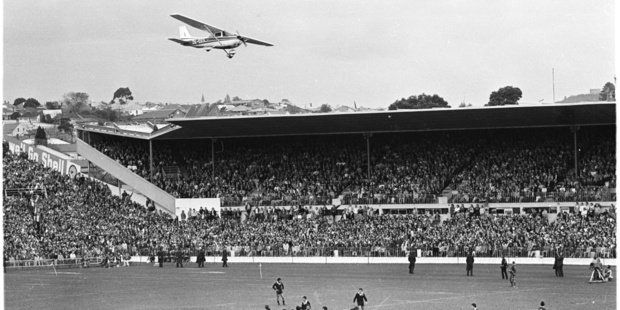 When I met Nelson Mandela in Canberra in August 1990, one of the first things he said was that he hoped when he came to New Zealand he would be able to meet the man (Marx Jones) who had flown over Eden Park dropping flour bombs during the 1981 All Blacks-Springboks test.
The sustained protests in New Zealand against the 1981 rugby tour were well known to many black people, even those in prison, such as Mandela.
The protests went some way towards improving respect for us after our implicit support of apartheid, embodied in touring All Black rugby teams in earlier years - not least the ill-considered 1976 tour of South Africa so soon after the tragic events at Soweto.
I was meeting Mandela on behalf of the New Zealand Government. Given his extraordinarily busy time touring bigger and more important countries, and his heavy load in the newly emerging South Africa, this was the most New Zealand could expect for now.
He gave us half an hour. We were struck by his warmth, charm and good humour. He hoped that what economic and other sanctions we had in our relationships with South Africa would continue for the time being.
Mandela's release from prison six months earlier had come as a considerable surprise. In December 1989, I attended a special session on apartheid at the United Nations in New York. In the course of the addresses, New Zealand and other countries repeatedly called on South Africa's President, F.W. de Klerk, to release Mandela and others from prison. As I talked with African ministers and diplomats from Southern Africa, and with senior African National Congress (ANC) officials, none of them saw any early prospect of change from apartheid rule. Eight weeks later, bans on political parties had been lifted, all-inclusive elections were in sight and Mandela was a free man.
From January 1994, I had the privilege of leading a Commonwealth team helping to prepare for the elections in April.
The lead-up to the elections was often fraught and ugly. The long-lasting conflict between supporters of Mandela's ANC and Mangosuthu Buthelezi's Inkatha Freedom Party continued in KwaZulu-Natal, and in other places such as Johannesburg's East Rand.
As the election drew close, white extremists set off parcel bombs in several busy places. I doubt whether anyone else could have led the ANC and the wider black community through the often turbulent lead-up to South Africa's first fully democratic election.
The elections were duly held on April 28 and 29. Seeing queues of up to 1000 people patiently waiting their turn to vote, and watching reactions as they left, was an unforgettable experience. I was in East Rand where observers took it upon themselves to authorise a third day of voting, voting papers not having been delivered to more than 40 booths on the first day.
The inauguration of Mandela as president took place in front of the government buildings in Pretoria. At one of the great events of our time, we all watched and listened as this remarkable, wise and forgiving man took office as president of the whole of South Africa.
Before returning home I attended the official opening of the new Parliament. The new MPs assembled and the singing, the colourful clothing, the large proportion of black faces, and the sheer joy and sense of celebration left an enduring memory. In 1995, Mandela came to New Zealand for the Commonwealth Heads of Government meeting. Negotiations for his programme foundered when the South African end deleted several of the events proposed. The man was 76 years old, we were reminded. With John Hayes, then head of the Middle East and Africa division, I looked at the list and made direct contact with Mandela's office, seeking the reinstatement of two items. One was the meeting with anti-apartheid activists at St Matthew's church in Auckland, the other a television interview with Ian Fraser. They were both duly reinstated.
The TV interview at Government House was scheduled for a 4.30am start - the time at which Mandela had begun his day ever since his grim incarceration on Robben Island.
• Russell Marshall was New Zealand's Minister of Foreign Affairs from 1987 to 1990. After leaving Parliament, he chaired the Commonwealth Observer Mission to South Africa in 1994. He served as High Commissioner to the United Kingdom from 2002 to 2005.