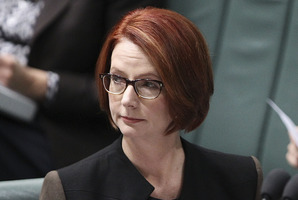 It is the lot of many leaders to be more admired and appreciated abroad than in their own domains. Such is the case with Julia Gillard, who has been ousted after serving almost three years as Australia's Prime Minister. She will be fondly remembered in New Zealand, especially for her visits after the Christchurch earthquakes and the Pike River tragedy, when she spoke of us as family. Her interest strengthened an Anzac tie that had been allowed to languish by Kevin Rudd, who is again Australia's leader after being deposed by Ms Gillard in mid-2010.
That bond, and good relations at the top level, matter because of Australia's importance as a trading partner and the two countries' shared security concerns. In the immediate future, it is likely, once more, to be a low priority in Canberra. Mr Rudd, a former diplomat, is both by instinct and ego more inclined to hobnob in Washington than spend time in Wellington. But the dire straits in which the Labor Party finds itself mean his globetrotting will be kept to a minimum. He has regained the prime ministership only because an increasingly desperate party sees him as its sole chance of defeating the Liberal Party or, far more likely, avoiding a landslide defeat in an election scheduled for September 14.
The poll may be brought forward if Mr Rudd sees this as a way of taking advantage of a honeymoon-period jump in popular support and of galvanising a show of Labor unity. That would be an unfortunate step. After the turmoil of recent years, there is a patent need for a genuine contest of policies and ideas between Mr Rudd and Tony Abbott, the Liberal leader who has dealt mainly in slogans and negativity. Mr Rudd's immediate comments were not, however, the stuff of reasoned debate. Australians, he said, were "genuinely fearful" of an Abbott government, and he would "do what I can" to prevent that happening.
The election date may matter only in terms of reducing the extent of Labor's defeat. The party's internal fighting has alienated most Australians. As much would have been the case in any electorate anywhere in the world. Equally damaging was Ms Gillard's failure to connect with middle Australia. Many never forgave her for the way she deposed Mr Rudd and then broke her pledge not to introduce a carbon tax. The chance to win over such people was negated by her unwillingness to make a strenuous effort to explain the reasons for her policies.
But whatever her standing now, history is likely to deliver a more favourable verdict on Australia's first female leader. That status caused her to be the victim of sexist abuse and outright hostility. The criticism was cruel even by the standards of a country whose political debate is particularly robust. Its intensity spoke ill of the attitudes of many Australians.
Despite that and the handicaps implicit in a minority government, Ms Gillard steered through major health and education reforms. Her decision to champion a carbon tax also demonstrated a courage based on a determination to do what was right.
Few who worked with Ms Gillard had a bad word to say about her. That is not the case with Mr Rudd even though, perversely, he is more popular with Australian voters. Three years ago, he refused to do what Ms Gillard has done and walk away gracefully from defeat. Instead, he set about destabilising her. Mr Rudd says now that he intends to lead a Government that brings people together. Selling that sentiment will be extremely hard given Labor's extraordinary splits.