Helping consumers to spot fakes would be a big step towards wresting back control in China, writes Willy Leferink.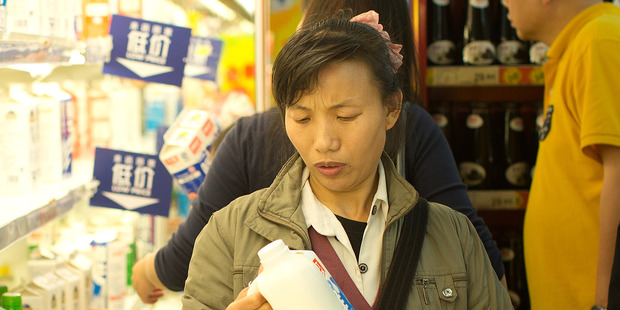 New Zealand's dairy industry has a global reputation for excellence and integrity. Farmers here help to craft some of the best milk on earth, which is then turned into dairy products consumers can trust.
It is also fair to say that recent months have not been a stellar time for New Zealand's overall reputation in China.
We allowed our myopic obsession with nitrates to blow up in our face with the fuss over traces of DCD in milk powder.
While DCD (the fertiliser dicyandiamide) is safe, it shows you how a well-meaning domestic solution rushed into the field can unpleasantly catch consumers unaware. Were Chinese parents more concerned with safe and wholesome food for their children, or New Zealand's domestic water policies?
Then, a few months later, we followed that up with the meat paperwork fiasco and the huge embarrassment it caused to our name as an exporter.
Hopefully, we have learned the valuable lesson about putting our customers first.
At least the Ministry for Primary Industries (MPI) and Customs moving to register dairy exporters is a step in the right direction. We are finally getting on to the front foot and taking control over what is being exported into our largest single dairy market.
China is a market where infant formula is a huge reputational barometer; parents will make sacrifices to ensure their children receive quality nutrition.
Research in Asia, commissioned by Fonterra, found that 72 per cent of the 9000 people surveyed see dairy as an important part of a balanced diet, but fewer than half eat it on a daily basis.
Reputation, trust, quality and safety really count with consumers in Asia and they will pay a premium to get it.
This is where we become victims of our own success. Wherever you have a flourishing legitimate market, a black one is sure to rise.
The unlawful export trade in infant formula alone is estimated by MPI and Customs to be worth at least $150 million each year and it is growing.
Showing the scale of the problem was an article this year in the China Daily. It reported that although New Zealand exports 20 milk powder brands to China made by six companies, more than 200 brands claim to be of Kiwi origin.
China Daily also said: "On April 13, a domestic media outlet quoted a representative of the New Zealand Infant Formula Exporters Association who claimed that 90 per cent of so-called New Zealand dairy products in Mainland supermarkets are counterfeit. The report quickly spread throughout the local media, causing alarm ..."
Instead of flight it is great to see fight.
Letters have gone from the MPI and Customs to wholesalers, freight forwarders, supermarkets and all known exporters telling them about dairy exporter registration.
This unlawful trade in dairy is a huge concern to me and every dairy farmer I know. We are committed to quality but it is all potentially undermined by a skilled counterfeiter putting less than quality product inside a cleverly copied tin.
The Organisation for Economic Co-operation and Development believes the global counterfeit trade is now about 2 per cent of all trade. The good news is China is increasingly cracking down on counterfeiters.
The International Business Times reported that the Chinese Government, in July 2011, arrested more than 9000 suspects, seized US$530 million ($686.6 million) worth of counterfeit products and closed almost 13,000 illegal factories.
Repeated last July, it shows the scale of counterfeiting and the challenge we face. For all the letters, tools and tests we deploy, it is hard to stop counterfeiters simply copying logos and labels.
In this giant game of Whac-A-Mole no one is immune - in 2008 the FBI seized counterfeit Cisco computer routers that had been bought by, of all organisations, the United States Government.
Labelling and registering legitimate brands is a very good first step but there needs to be more.
Maybe our rainfall, which leaves a distinctive natural isotope signature, can be used by smart science to identify New Zealand dairy products, possibly even from Canterbury, New Zealand.
Perhaps we can help consumers to protect themselves against bogus dairy products and infant formula by getting the message out there to buy only from trusted sources.
Consumers need to know that quality New Zealand infant formula won't be found in some ramshackle night market.
Consumers can further check the manufacturer is registered rather than one of the hundreds making bogus claims or putting pretty pictures of New Zealand on a tin of infant formula.
To that end, we can only hope the MPI/Customs registration will be multilingual because arming consumers is a big step towards wresting back control.
Willy Leferink is chairman of Federated Farmers Dairy.