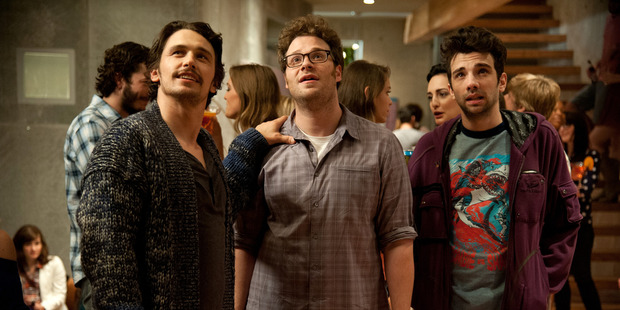 The new star-studded comedy This Is The End (opening this week in New Zealand cinemas) is notable in that the stars studding the film all play themselves - or a skewed version of themselves.
It shouldn't be so surprising that the film works so well (honestly, it's hilarious!) - it builds on the easily-perceived notion that all these Judd Apatow-connected actors (Seth Rogan; James Franco; Jonah Hill; Danny McBride et al) are pals who hang out and party together.
The camaraderie (fictional or otherwise) that comes from years of co-starring in each other's movies (most of which were overseen by camp mother Apatow) pops on screen, and it's greatly enhanced by playing out against an apocalyptic scenario. Not to mention the gleefully puerile sense of humour.
It's hard not to see this entire movie being somewhat inspired by the now legendary Bill Murray cameo in Zombieland.
Hollywood-skewering comedy series like The Larry Sanders Show and Entourage have always benefitted from celebrities happy to play less-than-nice or weird versions of themselves, but the Zombieland/Murray gambit took this to a whole new level.
This Is The End takes this elevation and runs with it, going beyond its core cast to create memorable "as themselves" moments with the likes of Michael Cera; Emma Watson and several others I daren't spoil.
It got me thinking about the best; worst; funniest and most annoying instances of actors or celebrities playing themselves in movies, via cameos or otherwise.
Apatow himself has long made great sport of this, using both James Franco and Steve Carell to humerous effect in Knocked Up before going nuts in Funny People, drafting in everybody from Eminem to Ray Romano to poke fun at their public personas. Funny People also benefits greatly from Adam Sandler's central character being a thinly veiled version of himself.
The Young Hollywood slacker fraternity extolled in This Is The End reminded me of the way Woody Allen would portray the chummy New York arts scene in some of his earlier films.
While Allen always denied the films were autobiographical, it was hard not to feel like we were getting a glimpse into a rarefied world when he presented Manhattan parties filled with flashy pretentious types vying for intellectual superiority. If it wasn't quite a genuine glimpse, then it was at least an outsider's idealised notion of what that glimpse might be, which is kind of what This Is The End feels like.
The characters Allen himself portrayed were often writers, directors or comedians, and the specific nature with which he demonstrated these characters' professional lives always felt particularly authentic.

Allen executed one of the great movie cameos of all time in his 1977 Best Oscar winner Annie Hall when his character gets into an argument with a stranger about the work of media critic Marshall McLuhan, who then steps out from behind a plant to back up Allen's argument. It's pretty great.
Outside of This Is The End, other recent examples of films where actors play themselves as the lead character include 2008's very much worth-watching JCVD (starring Jean-Claude Van Damme as himself) and 2007's somewhat defensive My Name Is Bruce (which stars Evil Dead's Bruce Campbell as himself).
I suppose 2009's docu-comedy comedy Paper Heart counts - it features actors Charlene Yi and Michael Cera playing themselves while semi-exploring their relationship and love in general. The film presents itself as a documentary, but also features actors playing supporting fictional roles, so who knows where the reality lies here. Either way, the film is horrible and completely reliant on its minor celebrity component.
There are plenty of examples of actors appearing in movies as themselves to riff on iconic roles they played in the past, such as William Shatner in 1998's Star Trek fandom-themed comedy Free Enterprise or Robert Englund playing both himself and Freddy Krueger in 1994's New Nightmare. Arnold Schwarzengger's notorious 1993 flop Last Action Hero fits somewhere in between these two. Is it fair to say that most of the Expendables cast is just playing themselves at this point?
The oddest celebrity cameo I ever encoutered was in Kevin Costner's mid-'90s post-apocalyptic folly The Postman (i.e. The one that isn't Waterworld) when none other than Tom Petty shows up in a lawless America playing a character who is never named, but who is clearly supposed to be Tom Petty. It's very strange.
Prior to Zombieland, the standard bearer for this sort of thing was Spike Jonze's 1999 masterpiece Being John Malkovich, in which the eponymous Dangerous Liasons actor did a remarkably deft job of playing both himself, and himself when inhabited by the souls of other people.
The film played beautifully off Malkovich's mid-level fame, with one of the best gags being how no other characters can recall a single actual film in which the actor starred.
One of the more misjudged cameos, although it only sort of qualifies, was Julia Roberts playing a character who looked enough like Julia Roberts to pass for Julia Roberts in 2004's Ocean's Twelve. The resulting scene only added to the film's sense of smug self-satisfaction.
Roberts' scene partner in Ocean's Twelve, Bruce Willis, also played himself in 2008's Hollywood "satire" What Just Happened - he's equally unappealing there. Julia and Bruce previously cameoed together as themselves (playing characters in the movie-within-the-movie) in 1992's The Player. The Robert Altman classic stood as the benchmark for celebrity cameos in the early '90s, even if none of them did very much in the movie.
Celebrity cameos are nothing new of course, and there are innumerable examples from the Golden Age of Hollywood onwards. Back then, the movie studios were enthusiastic about creating their own mythology, and often had their star players cameo as themselves. I caught one of the weirder examples one day on TCM when 1944's Hollywood Canteen rolled out. It features a whole bunch of Warner Bros. actors playing themselves as they meet starstruck soldiers and dames.
Adam Sandler loves to have celebrities cameo as themselves in his movies, and his expert usage of game show host Bob Barker in Happy Gilmore is one of the funniest celebrity cameos of all time.
Sandler later drafted in Oscar winner Al Pacino to play a bizarro version of himself for the widely reviled 2011 film Jack and Jill. While the film very much lives down to its reputation, it's almost worth seeing for the nuts Pacino stuff, which culminates in this surreal nightmare.
The cameo and nostalgia-loving Seth McFarlane put a lot of focus on the Sam Jones/Flash Gordon cameo in his recent hit Ted. While that was undoubtedly amusing, I got much more of a thrill out of the completely random appearance from Top Gun star Tom Skerritt.
Ben Stiller's 2001 cult classic Zoolander is filled with numerous celebrities playing themselves, but none more effectively than Billy Zane, whose presence at an impromptu walk-off challenge both makes perfect and no sense.
Another brief but tonally perfect random celebrity cameo came in 1988's The Naked Gun, in which Weird Al Yankovic appears as himself. Yankovic returned to the franchise as himself for The Naked Gun 33 1/3, in a marginally larger appearance.
Jim Abrahams and the Zucker brothers (the trio behind the Naked Gun movies) are masters of the perfectly executed celebrity cameo, and set the bar high for themselves (and all other movies) with Kareem Abdul Jabaar's role in 1980's Airplane. Although initially appearing to simply be playing a pilot, Jabaar's basketball prowess is soon addressed by the puckish Billy.
I also enjoyed Zsa Zsa Gabor's cameo in the opening credits of The Naked Gun 2 ½; but why they couldn't work Mel Tormé into Top Secret, I'll never know.
Prior to Zombieland, Bill Murray got the ball rolling for much of this with his hilarious appearance as himself in Jim Jarmusch's 2003 talkfest Coffee and Cigarettes. Always pushing the boundries, the comedy great is now mainly cameo-ing as himself in people's actual lives.
The 2008 Kiwi box office hit Second Hand Wedding gained considerable milage out of its late-arriving John Rowles cameo, but unless Rachel Hunter turns up in the third Hobbit movie, it's hard to imagine there being much scope for this sort of thing in New Zealand cinema - can you think of any exceptions?
Does Zoe Bell in Death Proof count? I'm gonna say yes.


Amped for/seen This Is The End? Do you enjoy actors cameo-ing as themselves in movies? Favourite/worst instances? Comment Below!