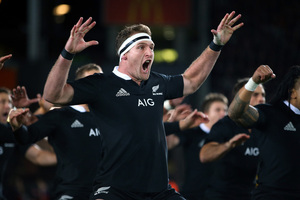 Tracey Nelson crunches the numbers ahead of the All Blacks' 500th test and Kieran Read's 50th in the black jersey.
ALL BLACKS v FRANCE (Christchurch, Referee Alain Rolland)
Christchurch will host the All Blacks' 500th test match, with their first test dating back to August 15th, 1903, when they beat Australia in Sydney. As far as milestone test matches go, the All Blacks lost their 100th against the Lions in 1959, but have gone on to win their 200th (v Australia, 1982), 300th (v South Africa, 1996) and 400th (v Australia, 2005).
This will be just the second outing for the All Blacks in Christchurch's AMI Stadium, last year's test against Ireland went down to the wire when they won 22-19 thanks to a Dan Carter drop goal. It has been 10 years since France played in Christchurch, with the All Blacks winning that test 31-23.
The All Blacks have won 377 of their 499 tests, and in the process have clocked up 13,057 points (an average of 26 points per test) and conceded just 6,344 (12.7 points per test). They are also the highest try scorers in test match history with a total of 1706. France are the next best for test tries having scored 1623 in 693 test matches - giving the All Blacks the better strike rate of 3.4 tries per test to France's 2.34 tries.
France's inspirational captain Thierry Dusautoir will take the title for his country for most starts as a flanker, overtaking Jean-Pierre Rive's record of 59 test starts.
All Black captain Kieran Read will achieve his 50th cap for the All Blacks in this game. He has scored nine tries in the black jersey, and has won 41 of his 49 tests.
France's openside flanker Bernard Le Roux will make his test debut this weekend, while at the other end of the spectrum Andrew Hore will play his 75th test should he come off the bench.
Ma'a Nonu and Conrad Smith will play their 45th test as a midfield pairing, which passes the number held by England's Will Carling and Jeremy Guscott. Ireland's Brian O'Driscoll and Gordon D'Arcy hold the record, with a total of 50 tests.
The All Blacks have scored a try against France for 21 consecutive test matches, and if they can score three tries this weekend they will reach 150 tries against France. The All Blacks also need just 11 more points to achieve 500 points under coach Steve Hansen.
Referee Alain Rolland has officiated in 15 All Black matches, of which the All Blacks have won 13 and lost two. Rolland has had the whistle in three New Zealand v France test matches (Paris 2004, Marseille 2009, and the RWC Pool game in Auckland 2012), and the All Blacks have won all three.