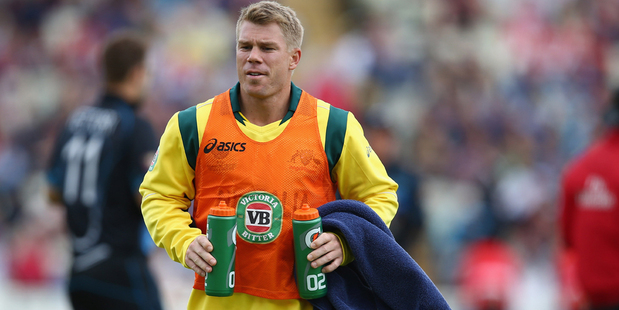 The timing of David Warner's punch at England batsman Joe Root could scarcely have been worse.
Not the timing of the actual punch, which has been described as a glancing blow. Forget the Champions Trophy; Australia are preparing for the first of their two Ashes series. Nothing else really matters.
The job's shaping as hard enough already for a weak Australian outfit without the stocky opener's punching of Root in a Birmingham pub this week.
He's already copped a $NZ7,285 fine for abusive comments to two leading Australian journalists a few weeks ago and the pub incident will only enhance his reputation as Australia's Mr Combustible.
Warner is facing a Cricket Australia hearing, charged with conduct bringing the game into disrepute. It could rub him out of the Champions Trophy, and possibly the Ashes, and cost him another bundle of cash.
Warner was, according to a barman at the Walkabout pub, drinking Jager bomb cocktails - vodka and Red Bull. He should be fined for that alone.
It wasn't so long ago that the lefthander for whom the term pugnacious could have been invented was wowing Australian audiences with his bristling aggression at the crease. But that was on the field, not off it.
In his second test he carried Australia to within a couple of boundaries of a remarkable one-wicket win over New Zealand at Hobart, with his unbeaten 123 in December 2011.
For a time he was to many the most readily identifiable face of the Australian team, a bouncy scrapper who got his runs in a hurry. He was even talked of as a possible future captain. Seriously.
Now he's got off-field scars and clearly has a problem controlling himself.
The Twitter attack on prominent journalists Robert Craddock and Malcolm Conn was in response to a story describing the Indian Premier League as a "a smouldering cesspit" and "the sunniest of places for the shadiest people" - a not unreasonable description given recent events in that T20 competition - and accompanied by a photo of Warner, who played for the hopeless Delhi Daredevils this year.
Warner took exception. There are several stories doing the rounds over what sparked the punch at Root.
One has it that the baby-faced Englishman pulled on an Australian wig, and/or that he used it as a beard, impersonating South Africa's Muslim batting star Hashim Amla. That's been denied.
Another claim is that Root was responding to jibes from team mates that he's too young to grow facial hair.
One online wag said the real story out of the blowup was how Root got into a nightclub in the first place.
None of that matters. What does is that Warner has again shown himself to be a loose cannon, and an out-of-sorts loose cannon at that. He's been more pop than bang of late.
In 19 tests, he's averaging a respectable 39.46; in 39 ODIs he's going at 29.81, but since July 1 last year he has reached 40 once in 11 innings.
Australian commentators used to salivate over the bloke they continually referred to as "Daveywarner". No one's salivating now.
Australian authorities are used to giving 'difficult' players plenty of rope, Shane Warne the best example, Andrew Symonds another who tested the patience in recent years.
Warner may be about to find out the rope has been shortened.