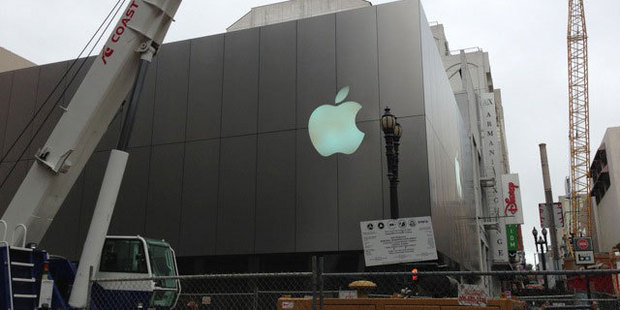 I am in San Francisco. I never thought I would make it. I asked Apple officially that if I could save enough to get to Apple's annual Worldwide Developers' Conference in 2014, could they get me in? I said I'd give my right arm to go (I'm mostly left handed, so it's not quite as drastic as it sounds - I just wouldn't be able to throw things which I inexplicably do right-handed). The blunt, but honest answer was 'no'. Tickets available for this year's event sold out in two minutes flat, at US$1599 a pop.
Then I got a phone call asking if I'd like to attend this year. Well, does the Pope (you know the story) ... strings were pulled, things obviously happened in the woods which we luckily can't see for the trees, and here I am.
I've never even been to America, except to change planes twice on the way to other places. I'm pretty sure that doesn't count. Air New Zealand's direct-to-San Francisco flight is a fantastic way to go - at 12 hours flying, it's the same as half-a-leg to Europe.
This might sound daunting but it seems pretty bearable to me after travelling to Europe last year, unexpectedly, and the year before, somewhat more expectedly.
It's hard to tell if the plane was full of IT questers after the same Apple grail as me, but there were definitely IT conversations all around me. But I guess that's to be expected on every flight to Silicon Valley - on my two recent Europe trips, many of the other passengers seemed to be Kiwi farmers enjoying some long-distance time out.
The taxi driver told me people were pouring in and indeed, on a wander to the Moscone Center where WWDC starts tomorrow with the infamous two-hour keynote, I noticed many Antipodean voices around me plus Dutch, Russian, Mandarin and Cantonese ... but they could easily have been your usual tourists.
Besides, there are probably other conventions and things going on in this city of under a million, and I know many readers will have been here so they know it's hilly and climactically cool (virtually the same temperatures as the Auckland winter I left, even though it's supposed to be summer here). Also San Francisco has many similar wooden houses, since we New Zealanders borrowed our wooden bungalows from Californian designs for similar reasons of climate and forest availability, I guess. So I kinda feel at home.
En route to the Moscone I walked into the large main San Francisco Apple Store near Union Square at 1 Stockton St. This one was surrounded by construction works, I think for the rapid transit system, and it represents the fifth actual Apple Store I have visited in person (New Zealand only has 'Resellers' which are shops licensed to sell Apple goods. The actual Apple Stores I have been to started with the first Australian one in George St Sydney (now Australia has 20). I also visited the first ever Apple Store in the Netherlands, which until 2012 had the same sort of reseller model New Zealand has always had. I saw the Amsterdam store on the Leidseplein before and after it opened (2011 and 2012), as I recounted here, plus two in the UK: the one in Covent Garden in London and another in Birmingham. In all cases they were very busy, and the staff very proactively friendly and very helpful. In the Covent Garden Apple Store I got directions to a Vodafone outlet from an English woman with an aunt in Christchurch - here in San Francisco I got directions to the Moscone Center.
Of course, I had Apple Maps on my phone, but at least I can vouch for its accuracy. But I had to ask something in the Apple Store, didn't I? As when I asked what new products they were getting ready to start selling tomorrow, he just laughed politely.
Please note that it seems Apple's iOS Maps app is pretty much sorted. So far I have used it most effectively in Rotterdam, Amsterdam and other places in the Netherlands, in London and Oxford in England, all over Auckland and Wellington, and now I'm using it in the Apple heartland. OK, sure, you'd think it would work well here, but by all accounts Apple has been working hard to put it right.
Better-travelled friends warned me that American coffee was big and transparent, food plates were massive and watch your pockets. Well, I watch my pockets wherever I am, and so far San Francisco seems no more dangerous than Auckland, London, Rotterdam ... and all those places have their dangers. Also, luckily, I found a place nearby that makes real espresso, short and strong and definitely not transparent. I will be there again, no doubt.
And if I'm not careful I could get sidetracked into a culinary blog, as David's 'traditional fare' is just across the road and looks mouthwateringly full of delights. When I visit I can find out exactly what 'tradition' it represents.
Anyway, back to Apple. I don't have any extra info to impart at the moment, except that the banners glimpsed inside the Moscone might be quite revealing, if you're into that sort of thing. There are logos for both operating systems and the WWDC logo has now got its own tagline "Where a whole new world is developing." OK, well, this is a developer's conference.
Giant posters show a 7, an X and there are 10.9 posters. This has surprised local Apple watchers since Apple hasn't normally assigned numbers to the OS X upgrades over the last five years or so, preferring to go with code names like Mountain Lion.
However, it actually makes sense to me: Apple may have run out of suitably impressive wild cat names. Apple OS version 10.9 is coming. It may still get a cat name, but I'm guessing it won't - Cheetah could be a dangerous name as the system would definitely have to be very fast and unable to be associated with the pun 'cheater'. Ocelot doesn't offer a lot (it's not a very big or well-known cat) and Lynx is a little odorous by association with a deodorant brand.
Why not get people used to '10.9' now so they're prepped for OS 11?
We'll soon see, and I will post as fast as I can when I witness just what Apple has been working on.