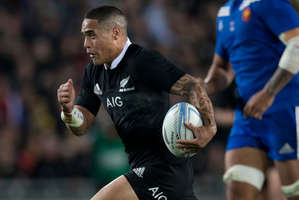 You could almost hear Jamie Joseph, coach of the Highlanders, saying: 'Hang on ... what's going on here?'
That's because the out of form Highlanders players - Ma'a Nonu and Aaron Smith - had big games and so did winger Ben Smith, though he's been having big games all year. Yet the first two have been so poor during Super Rugby.
While it might be good that the players have come into form after being in the All Black camp, it does raise the question of the effect of all this on Super Rugby.
I won't go too much into it this week but we do have to be careful with how we treat Super Rugby.
There's a good argument to say that provincial rugby has been devalued in recent years - and we don't want the same thing to happen to Super Rugby.
Those competitions, after all, are where our All Blacks come from.
However, you'd have to say that the first test against the French was typical first test blues from the All Blacks.
I'd even go so far as to say that it was a bit of a missed opportunity for the French. They controlled the ball better than the All Blacks in the second half, though the All Blacks finished the stronger.
If Louis Picamoles - who otherwise had an outstanding game - had held onto that scoring pass near the end, it could have been a different result.
They have some dangerous runners in Wesley Fofana and Florian Fritz and that could really have lit them up.
It wasn't a great test match but you'd expect the All Blacks to do better next time once they have been together a bit longer.
I thought the French had picked up on a lesson from the English last year when they beat the All Blacks - if you take them on physically, you can beat them and the French certainly worked hard at the breakdowns and the physical exchanges.
But the All Blacks hung in there well. Kieran Read looked comfortable as a leader; I liked what I saw from Brodie Retallick - he has added an extra dimension to his game with his ball-carrying this year.
He has been excellent for the Chiefs and he was again last night. He is stepping up to be a senior player in the absence of Sam Whitelock.
Sam Cane possibly suffered a little with the French physicality, especially in the first half. But that's as much to do with the guys around him.
The same thing happened to Richie McCaw against England at the end of year tour last season. Cane had a better second half.
As for their decision to start with Dane Coles, I thought he did well in his first start.
He was good in the scrums and round the park but has a bit of work to do on his throwing.
Aaron Cruden did pretty well, I thought. He had a couple of poor kicks early on but he takes the ball to the line well - and you could see he worried the French.
Rene Ranger added a bit when he came on and, though he only had a short time on the field, I liked what I saw of Ben Afeaki. He has a bit of presence about him.
So no one will claim it was an outstanding victory but there's plenty there for the All Blacks to build on.
When they get their attacking game working a bit better and are more physical in the rucks and mauls, they could be really hard for the French to hold.