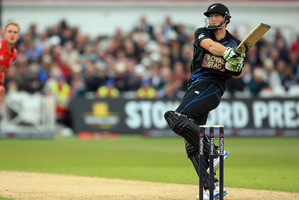 Surely belief is high right now for our team - but where it will get tested, and where it has failed them in the past, is in the big game. There is no denying that the Black Caps are carrying confidence into this Champions Trophy campaign and rightly so. While their last game was a loss, it was a convenient reminder of the areas they need to tighten up and no harm was done.
However, middle order wobbles and getting pasted at the death - the two areas that cost them in game three against England - are the two areas where they continually need work. Unlike test cricket, they know how to work on their weaker areas and know what to do to make the corrections.
This is the difference between the Black Caps, the miserable test team, and the Black Caps, the ODI team capable of making semifinals and even finals in ICC tournaments.
In tests, our players know what is wrong but damned if they know how to make successful changes. They appear lost, drifting, bereft of game plan or, more particularly trust that the game plan they've chosen is the right way to play.
That is a dreadful place to be when you're asked to perform - and you're not sure how to perform. Uncertainty in sport is the biggest destructive force of all. It robs you of flow, of rhythm; it clutters the minds and reduces focus. When you don't trust yourself to make the right decisions because you do not have the belief in your intuitive decision-making, you are destined for repeated failure.
This is not the case when it comes to our 50-over side. Maybe it's because of the caveats that come with one-day cricket in the form of fielding restrictions, bowling restrictions, limited overs, or perhaps it's the formulaic nature of a well played ODI. Whatever it is, I believe it gives our players more clarity and focus.
It's like the game dictates to them what is required and they have no other option but to apply themselves to that task at hand. Most importantly, there is an understanding of how to apply themselves to that task. It's like painting by numbers; you fill in each numbered area accurately and you end up with a nice picture - however real art (the art of test cricket) is done on a blank canvas.
There is anxiety in any form of cricket for our players but anxiety need not be destructive if you can focus the mind on a task you believe in and a task you believe you can achieve.
Surely belief is high right now for our team - but where it will get tested, and where it has failed them in the past, is in the big game. Too often they have failed come semifinal time in big tournaments.
If New Zealand Cricket's focus is the 2015 World Cup, then a more instant tournament like this one provides them with an ideal chance to get to a final and for the big names to win it in the big games.
It's time cricket fans in this country saw that. The last time we saw that was in 2000 in Kenya and it was Chris Cairns who won it for us. This is the next step for Martin Guptill, Ross Taylor or Brendon McCullum.