The protests are against an increasingly dictatorial leadership.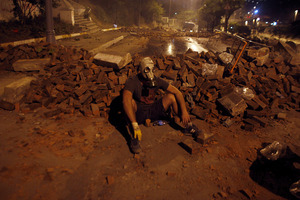 I write on what is happening in Turkey and why Turkish people are so upset. I write because it is my moral duty to my beloved country and the global society at large to let everyone know the truth.
This started as a peaceful protest to save Gezi Park, which is at the heart of a number one tourist destination, the Taksim district, in Istanbul and is one of the last green spaces left in downtown Istanbul.
People were protesting against the new urbanisation project of the Government. A shopping mall is planned for the area of Gezi Park. Early on Friday morning the police attacked protesters in the park and set their tents on fire. This was the beginning of the uprising.
Since then hundreds of thousands of people, not only in Istanbul but also in many other major cities such as Ankara, Izmir, Antalya and Sivas have been actively protesting.
These protests are not only against the urbanisation project. They are against the recent policies of an increasingly authoritarian Government.
These policies of the governing political party AKP (led by Recep Tayyip Erdogan) effectively limited the basic human rights and freedom of speech in Turkey. This is why the protests attracted groups from a wide range of people of all ages from across the political and social spectrum: Turks, Kurds, Armenians, Lazs, Jews, Sunnis, Alevis, Christians, Atheists, groups from all political parties, LGBT activists, soccer fans, secularists and nationalists. They united for their right to talk, demonstrate, work, drink alcohol, get pregnant, get an abortion, get married to whomever they want and to be able to kiss their lovers in public! They united against the anti-democratic policies of the Government.
So far the police, following the orders given by the Government, have been using undue force against unarmed citizens, employing pepper spray, tear gas and water cannons to disperse groups of people peacefully protesting. At times the tear gas has been fired from the police helicopters and the excessive use of tear gas has reportedly caused certain districts to be covered by smoke for hours from which even the stray animals have been affected.
Hundreds of people were injured and thousands of them were detained. Unfortunately a number of deaths were reported as well. I cannot give the actual numbers because the mainstream Turkish media outlets, which are either owned, controlled or threatened by the government, are turning a blind eye on what is actually happening and show merely a portion of the protests.
I should mention that I am not a part of any political group. I am even not interested in politics. I am a scientist. I value freedom of speech and mind. I have been living abroad for seven years.
I have travelled to more than 15 countries. I consider myself a world citizen but I was born and grew up in Turkey. My heart belongs there. There is my language, my family, my most beautiful memories, my beloved friends. It is my home. In my home people are thrilled to have guests; they can sit and talk for hours; they start dancing with the first note of a song; they are kind of high tempered but also very easy to calm down. But this time it was not that easy. This time it was serious because the most basic human rights have been jeopardised by the Government for years and the excessive force against peaceful protesters was the last drop to fill the can.
Therefore I feel the need to write. Therefore I support and am very proud of my people who stand up for their rights. And therefore I share their story, the real story.
Dr Muge Kasanmascheff is a Turkish postdoctoral researcher at the University of Canterbury.