Credit cards can be rewarding if you know how to use them wisely and receive more in rewards points than you spend on the fee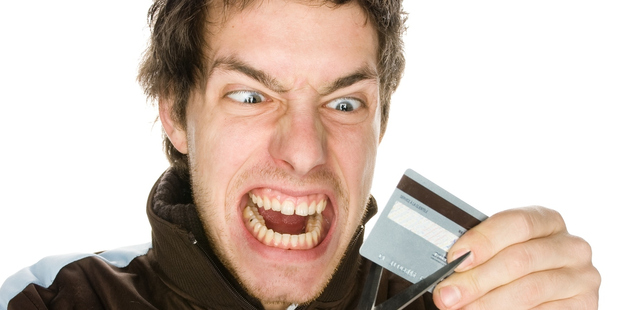 Credit cards are designed to part us with our money. Canny customers, however, can sometimes use these little plastic cards to their financial advantage. They may earn redeemable points and never pay interest. Or they have found ways to minimise fees when spending overseas. There are many clever ways to use credit cards. They include:
Cutting it up: Yep, if you're the person who uses the card to buy things you don't need and then doesn't pay the balance in full at the end of each month, then the cleverest thing to do with that card is cut it up. Use a Visa debit card instead to buy online.
Collecting points: Plenty of readers pay their monthly credit card bill in full by direct debit. This is an excellent way to ensure that you never pay interest. Providing you've chosen the right card, you should then receive more in rewards points than you spend on the annual fee.
What's more, if you use it cleverly you might be able to double dip and get reward points from your bank at the same time as collecting FlyBuys points.
If this works for you, then it's worth paying your utilities and other big bills with the credit card. In most cases it's possible to set up a monthly direct debit from the credit card - so that you still get prompt payment and other discounts. Bruce Thompson, spokesman at Kiwibank, adds: "If you can pay in full each month, then you can take a higher interest rate but lower annual charge facility."
Rewards points are only worth it if you put enough spending through your card to offset the annual fee and you pay your card off in full each month.
People can be scornful of loyalty reward points. "But if you use the card as outlined, the points slowly and surely build up and that trip to Auckland or Dunedin is all paid," commented an online reader of this column.
Of the various rewards points schemes I'm in favour of a simple points system such as ANZ's CashBack credit cards, which credit your reward in cash to your credit card account once a year. Westpac's hotpoints and ASB's True Rewards schemes aren't bad either. Their points can be used to buy goods direct from retailers or to get supermarket, petrol station or retailers' vouchers to spend in store.
FlyBuys points cards are less flexible. And in my opinion air points schemes are not what they're cracked up to be because you can only spend the points on flights. Having said that, Kiwibank's Go Fly cards offer early access to Grabaseat fares, which is beneficial if you're a Grabaseat customer anyway. Whatever you do, make sure you actually redeem the points.
People who use their cards to collect points also owe it to themselves to download and analyse their monthly spending in budgeting software or a spreadsheet. It is psychologically much easier to spend on a credit card than it is with cash.
To compare these cards, visit the Canstar Credit Card Rewards report.
Using the travel insurance: Many gold and platinum cards include "free" international travel insurance. If you travel, then use it. Providing you understand the cover, it can be a good alternative to buying a standalone policy. Despite protestations by insurance providers, the cover offered by a credit card is pretty good and usually covers the holder and his or her spouse and children. I read the ASB's policy this week and would be happy to travel on it.
There is, of course, fine print to beware of with credit card insurance. If you plan to travel for more than 90 days, want to cover pre-existing medical conditions or cover particularly expensive items you'll need to make arrangements to extend the cover or buy a standalone policy. You'll not be covered if more than 28 weeks pregnant and if doing certain activities such as competitive sport, hunting, pot-holing, or hang-gliding.
It is important to note the rules usually say that you need to pay for the deposit or the entire holiday using your credit card in order for the insurance to kick in.
Making balance transfers: If an emergency has occurred and you end up with an outstanding balance on your credit card, it may well be worth playing the balance transfer game. You transfer the debt on your existing card to a new one that offers a special low introductory interest rate. For example, the ANZ is offering 2.99 per cent for the first 12 months on its ANZ Low Rate MasterCard. That's a good deal if you're paying 19.95 per cent or similar on a debt amounting to thousands of dollars.
Watch out, however - financial institutions and fine print go hand and hand. New spending on the card will be charged at the full rate. And most banks will apply payments to the low interest balance transfer, not the higher interest new spending.
Serial switching for balance transfer rates may backfire. It leaves a footprint on your credit record, which banks, landlords, employers and others can view.
"Balance transfers are good for small debt hangovers from, say, a joyous Christmas/New Year, less so for long-term debt problems," says Adam Beu, financial analyst at Canstar.
It's also worth being aware that balance transfers allow consumers to get away with making excuses for more spending.
Using premium card facilities: High rollers' platinum and titanium cards sometimes come with perks such as concierge services and extended warranties on purchases. "Need ideas for accommodation or entertainment options in a certain area? Then the concierge can get you the answers in a couple of days," points out Beu. For cash-rich, time-poor credit card holders, this can be mighty handy.
Westpac's 24-hour concierge service, for example, can source tickets to a hot show, get you a new suit from Milan or order fresh tulips from Holland.
The bank's Ultimate credit card account-holders get more rewards points per $1 spent than other customers, longer travel insurance cover and account fee waivers if they spend over $30,000 in a six-month period. These cards do cost more than others. For example, ANZ's card costs $290 a year. A low-interest MasterCard with the same bank costs $65 a year.
Storing travel money: Pre-loading your credit card with cash before you leave home can be cheaper than taking a travel card such as Air New Zealand OneSmart or the Travelex Cash Passport. These come with many fees and charge a percentage when the money is loaded into them.
Consumer.org.nz has a post from a reader who used his BankDirect Visa for all his travel money. He calculated it was cheaper than using a travel card. "I load it up with as much money as I need for free and then withdraw local cash in the destination country as many times as I want. At the same time I get paid interest on my loaded money by the bank. No loading and withdrawal fees at all and lower currency conversion costs than any of these travel cards. You also don't need to worry about how much money is in each "wallet" or restrict yourself to the limited number of currencies available. Where you don't need cash, just use it as a credit card."
Some banks, including BankDirect, don't charge cash advance fees for withdrawing money overseas from a credit card with a credit balance. Beware, however, most banks, including BankDirect charge offshore service margins of 1.5-2.5 per cent on cash withdrawals through ATMs - taking a cut of everything you withdraw. Those fees are also charged on purchases made using the card. It is always worth taking more than one method of payment with you. Credit cards can be lost, or swallowed by ATMs.
Banking Ombudsman Deborah Battell warns that there are daily limits for international ATM cash withdrawals and customers may be charged by the foreign banks to use those ATMs.