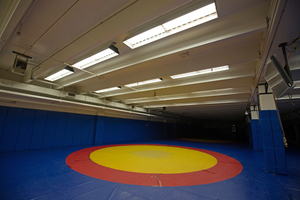 Eight sports with Olympic ambitions will put their case to an International Olympic Committee executive board next week.
At stake is a solitary vacant spot on the programme for the 2020 Olympics at a still-to-be-decided venue - which will be Madrid, Tokyo or Istanbul - and profile you can't buy.
Several are old hands at this game.
Karate, squash, roller sports, softball and baseball (combined this time) were all among the hopefuls for places on the 2016 card four years ago, when golf and rugby sevens prevailed.
This time another martial art, wushu, wakeboarding, sport climbing and wrestling, which is hoping to make a swift return after being dumped after the Rio Games in three years, have put their hand up.
Feelings are running high in the grappling world.
Leading Russian coach Vladirmir Uruimagov marked out his long run when the sport was pushed out: "If they expel wrestling now, that means that gays will soon run the whole world," this liberal thinker said.
The pride of Russian manhood would be turned into "men in bikinis", Vlad the Irrational added.
Wrestling was in the Olympics from the start; the question is whether it merits a place in the modern world, whether it retains its relevance.
The sport has reacted swiftly to the IOC decision to scrap it for 2020. That attitude has earned praise from the highest level.
Rules have been changed to make matches more watchable; athletes and - this being the 21st century - women have been added to decision-making positions.
IOC boss Jacques Rogge likes what he has seen from the sport's governing body.
"Definitely I would say that wrestling has reacted well. That does not guarantee a spot in the shortlist. They have addressed the shortcomings," he said.
The cynical might read that as code for a thumbs-up in St Petersburg next week.
Karate and wushu should miss out, as martial arts already has two sports, taekwondo and judo, on its 28-sport card. Wakeboarding has youth appeal but water sports are well covered. Roller sports is a perennial trier but given little chance, while sport climbing probably needs to wait another four years.
Squash is working overtime and has a "Back The Bid 2020" campaign, backed by a range of sports stars, including Roger Federer, Caroline Wozniaki, Sachin Tendulkar, Keven Mealamu and Sir John Kirwan.
The top 20 on the men's and women's ranking lists include 15 countries, rather more than rugby sevens medal contenders, for example. Against squash is that the Games already has three racquet sports.
The betting, according to Britain's long-established William Hill bookmakers, has squash second favourite.
The full list has wrestling the top fancy at 8/11, followed by squash (7/4), karate, wushu and sport climbing (12/1), baseball/softball (16/1), wakeboarding (25/1) and roller sports (33/1).
The executive could nominate one sport for its full assembly or a shortlist of three.
Rogge's successor will also be decided at the assembly in Buenos Aires in September.
(Twenty-five sports have been confirmed for 2020: athletics, rowing, badminton, basketball, boxing, canoeing, cycling, equestrian, fencing, soccer, gymnastics, weightlifting, handball, hockey, judo, aquatics, modern pentathlon, taekwondo, tennis, table tennis, shooting, archery, triathlon, sailing and volleyball.)