Gruff exterior of newest NZ Institute of Architects' Gold Medal laureate masks likeable fellow with soft spot for watercolours and growing lemons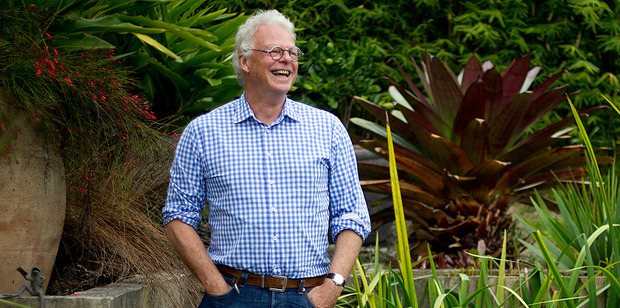 The architect Pip Cheshire lives in Freemans Bay in a pretty little house. An old one. A pale yellow one. A villa, of all houses for an architect to live in. He came to the door and I said: "What a pretty house!" That may have been the wrong thing to say to a famous architect. He pulled a face.
Once inside, I endeared myself further. I said: "Why don't you build yourself a new house?" He said, emphatically: "Because this is home."
I could see that. In addition to being pretty and nicely lived in, it is not a bit swanky. But calling it pretty was going a bit far. It was the wrong word. He said: "Architects like to think they deal in profound things. So 'pretty' sounds a bit ephemeral. You know, it's like people in the studio saying: 'I really like something.' I harass them for saying 'like'. Like is for daffodils. We're engaged in something much more profound."
I may have thought: "Blimey. What an old grouch." And, possibly: "Bloody architects. So pretentious." So I said: "Your house looks like a daffodil." He said: "You're right.
Yes. It does."
So the profound bit was the architect talking; the other chap was the nice man who lives in his sweet little house with his wife, Aileen, and it is here they raised their three boys: Nat, who works with his father in his architectural practice and who he says is already better than him because he can draw and has charm; Finn, who is a diplomat who likes "post-war situations"; and Hal, who is a tattooist in Melbourne but is home and bunking in the bedroom next to the kitchen.
Obviously he has "nibbled away at" the house over the 30-plus years they have lived here. Is he going to do any more to it? "I have no idea." Is it finished then? "It's been finished many times!"
Sometimes he thinks it'd be "wonderful to live in a new house, or an apartment ... Over a long period of time, but not consistently. Does that make any sense?"
While I was wondering just the same thing, he said: "But, you know, I get heavily involved in my lemon tree. You know, I get worried about it because it's not looking healthy." That made a lot of sense. In the front garden of the daffodil house is a vege plot. I wonder whether any of his posh rich clients in their Pip Cheshire houses have cabbages growing on the front lawn.
Last night, he was awarded the New Zealand Institute of Architects' Gold Medal for career achievement.
I'm not being rude when I say that the body of work considered for this accolade probably did not include the house he lives in.
He has designed some pretty snazzy buildings, the most famous of which are probably the Congreve House on the North Shore, and the Q Theatre in Auckland's central city.
His brief for the Congreve House was a world-standard house, in other words a properly serious house, probably profound.
In the book published by the NZEI to mark his gold medal he says that he took as his motif the rugby player Don Clarke: "You know, those photographs of his heel thudding into Eden Park, before he placed a goal kick. I wanted to design a place to stand."
I was trying to imagine a building inspired by a rugby player. All I could think was that the inside of the head of an architect must be a very strange place.
I was trying to imagine him getting on with clients. He has, surprise, been fired by clients. One once phoned him, presumably apoplectic with rage to shout: "You bastard, the only thing that stops me firing you forever is I know you're arguing for my best interests."
Does he argue with clients? "That's shorthand for 'profound discussions'."
His father, who was a manufacturer of pipes, once said that 90 per cent of architecture is charm.
His son took up smoking a pipe in the 70s, when he was "pretty hairy" and had a Zapata moustache and smoked dope because "didn't everyone?"
He doesn't smoke it now because "at least with booze you can keep arguing with clients ... and if you smoke dope, you're just out to lunch".
I don't know if the pipe was a sort of homage to his father, or just a prop, but he certainly didn't take his father's advice about the charm - at least not if you can believe him.
He argues even when he's surfing - which he's been doing since he was a kid - with his mate, the artist Stephen Bambury. Although he would prefer: "Debate strenuously." How on earth can you debate strenuously while surfing? "When you're waiting for waves."
He loves surfing because it's "everything. It's exciting and it's very lovely. It's a free ride!"
Also, he still thinks "I'm the only one who can do it." He means he likes to think he's the only one-legged surfer in the world. He knows he isn't, but he has never met another one-legged surfer. "No. I tend to avoid disabled people. No. That's a wild generalisation. I have tended to avoid disabled people."
This is quite a strange thing to say but he says his avoidance hasn't been deliberate: "Just a matter of not wanting to be cast that way. When I was younger, on a number of occasions people would say: 'Oh well, at least you'll be good at mathematics', or something like that." And he'd think: "'Well, wait a minute. I can swim and I can walk and I can surf'." About the only time his leg seems to have held him back in any way is that he couldn't wear very tight trousers in the 70s because they got caught up in his artificial leg - which I'm afraid I found very funny.
I asked, for some unaccountable reason, whether he'd have contemplated marrying a one-legged woman - and then immediately apologised for asking such a mad question. But he thought it was a very interesting question (or pretended to, because he only pretends to be an old grump.) He said: "When Aileen and I had not been married long, we went to stay with my sister in Manhattan and then we were training back through the South to come home. And she would curl up and I'd head off to the bar and drink away and meet people. I met a guy, a huge, huge guy ... and he was really excited. He ran a bar for monopodomaniacs in New Orleans. He was very keen that I get a job there."
Monopodomaniacs, in case you had to ask (I did) are people obsessed with people with one leg. Goodness. Are there such people? "Apparently. I didn't take up the offer."
At the risk of beginning to sound like a monopodomaniac (which may have been the point of that story), I suppose I should explain that he is one-legged because he was born that way. He's more accurately one-and-a-half-legged because his leg ends at the thigh (or thereabouts; I'm not so much of a weirdo that I asked to see) but a one-and-a-half-legged surfer wouldn't sound as ... I'm not sure what. Perilous, perhaps. In any case, he's not all that interested in his leg, or lack of it. He has after all had 62 years to get used to it. He's never bothered to find out why he was born the way he was because there's nothing he can do about it. He took up surfing out of bloody-mindedness, probably.
Which came first: The lack of the leg or the bloody-mindedness? He was likely born with both. His father was bloody-minded, but nice too, and they used to argue like anything when he was a placard-carrying hippy. But they always argued with great mutual affection.
He was probably practising for when he became an architect. I bet his clients love being argued with - with great mutual affection - by him.
Congratulations on your Gold Medal, I said. Was he thrilled? He was laughing. Why was he? "There are all sorts of ironies ... When I started out architecting [neither of us know whether this is actually a word but he prefers it to the more pretentious-sounding "making architecture"], I went up to a big tin shed we had on Jervois Rd ... And we had a thing called Artifice Studio ... and there were groups of people doing things in a non-traditional kind of structure and so we said: 'Well, we're not all that interested in the Institute of Architecture because we don't understand what it's about and we don't see how it could help us.' So you know, the wheel's come full circle. Now you're honoured by your peers and the institute and it's lovely. It's an incredible affirmation."
He was the Christ's College boy who set up his own plastics business then became a hippy architect with the Zapata mo and the placards and the social conscience who ended up making houses for rich people - but that is what happens to architects, if they are any good. He calls this his "pirouetting on the stage".
He started out wanting to make houses and buildings for the people. The people can't afford architecture. "Is that a question or a statement?" he said. It is a statement but it is quite wrong, apparently, and involves a complicated (to me, not to him, obviously) argument about how architects actually save you money because an architect gives you more value per square metre because every square metre "works harder. You don't build space that's not being used."
Anyway, he still has the social conscience (and what else are good houses and buildings?) and always has a pro bono job or two on the go. His big project currently is an attempt to get zoning permission for pensioner housing on Great Barrier Island.
He claims to have been "a bit of a prick" when he was a kid. He says he doesn't know whether he was or wasn't. "That's just me saying I was." So I have no idea whether he was or wasn't. I suspect he could have been annoying.
He claims he is lacking in that charm his father said was the making of a great architect. He is a curmudgeon, or so he has been told, and he certainly seems to embrace the idea. But why?
"Ha, ha. I don't know. Bloody-mindedness again."
He might be difficult to work with. "I think I can be. Yeah." How does he get any clients? "Being difficult doesn't mean to say you're not good. As long as you're good, you're all right."
He showed me a book of his watercolours (well, I made him), which he says are no good. "Chocolate box." They were pretty and I liked them. "Thank you," he said, rather sweetly for a curmudgeonly, bloody-minded, argumentative architect. I liked him too and I like that he lives in a house like a daffodil. That, like him, is interesting and funny.