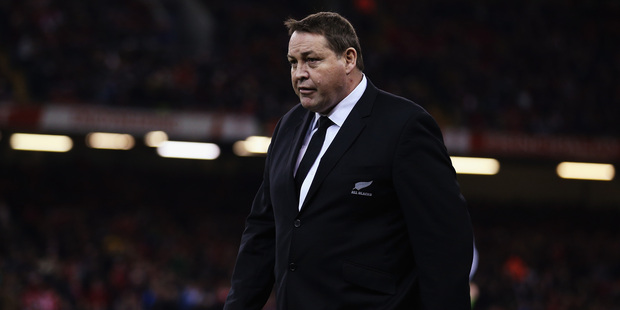 Steve Hansen is his own man, always has been always will be. Photo / Getty Images
Q. A lot of the Blues made the ABs wider squad this week without really having won anything important. Does this suggest Graham Henry still has a big influence over Hansen?
- Gary G, Mt Maunganui
Steve Hansen is his own man, always has been always will be. The 38 players selected for the training camps, including the eight Blues, got there on merit - some on the back of experience and others on their potential.
None of them is there as a favour to the Super rugby coaches.
It has been the on-field performance of the Blues that has had the greatest influence in promoting their four uncapped players, playing a brand of rugby that has best showcased their skills and talent.
If the coaches have an influence it is in their monitoring of off-field behaviour: what's the player's attitude like, work ethic and do they pass the "good bugger" test. This is such sound practice of New Zealand rugby working together.
It's an exciting time for the 38 players.
I always looked forward to the first meeting of a new squad when you had a chance to rub shoulders with the stars of our game and feed off the energy and aura they have. It was also a chance to learn new skills from our best coaches and pick up new tricks from the other players.
Q. I think the Crusaders have the best chance of the NZ teams to win the Super 15. They've been written off but the Chiefs looked terrible against the Force and the Blues are surely too inexperienced. What are your thoughts?
- Mike O'Neill, Pakuranga
The Crusaders have the pedigree, with seven Super titles, but I just wonder if their slow start to the season will mean they are forced to play away from Christchurch during the playoffs and history says it's pretty hard to win this on the road. It has only been done four times in the past 17 years and it has been 13 years since it was done by a Kiwi side.
The next three weeks will be crucial for the NZ conference with four derbies taking place that should answer a lot of our questions. The top three teams in the NZ conference, the Chiefs, Blues and Crusaders play in two derby matches each during that time, which will seriously reshape the look of our points ladder.
I like the Chiefs at this stage, with their three-point lead over the other New Zealand sides and the fact that they will get a four-week break period during the June internationals, courtesy of having the bye the week before the stand down.
This will allow them to return to near full strength, and with only six potential All Blacks they should have very little disruption during that period.
The Blues should consider themselves real contenders although they are yet to tour South Africa and the Hurricanes got themselves back into the race with their win in Bloemfontein last week.
The great thing is we still have four NZ teams with their destiny in their own hands.